Telling of Childhood Today: Berceau by Éric Laurrent
Keywords:
Éric Laurrent, child, childhood narrative, fatherhood, adoption
Abstract
More associated with ludic fiction and known for his mannerist style, Éric Laurrent enters, with Berceau, the realm of intimate literature whilst transcending the usual assumptions of the genre. This autobiographical text in the form of a diary presents the experience of adoption from the father's perspective, which is rare in literature. He focuses especially on the question of childhood in order to show the way in which it contributes to the generation of emotional ties, and gives two contrasting images of this period in life: everyday childhood – ordinary, but happy – and the childhood of abandoned children, desperately lonely and without any prospects for the future. This article seeks to analyse the thematic and stylistic multidimensionality of Laurrent's text, whose main aim is not so much to document personal experiences as to draw attention to the fate of orphans by showing the crucial role of the family in the lives of both children and adults.
References
Audiberti, Marie-Louise. Écrire l'enfance, douce ou amère, éclairée par la littérature. Éditions Autrement, 2003.
Barbalato, Beatrice. "L'Introduction." Autobiographies et biographies sur l'adoption, edited by Beatrice Barbalato, Presses Universitaires de Louvain, 2015, pp. 9-15.
Blanckeman, Bruno. Les fictions singulières. Étude sur le roman français contemporain. Prétexte Éditeur, 2002.
Blanckeman, Bruno. "La tentation du défaut (sur quelques récits d'enfance)." Le récit d'enfance et ses modèles, edited by Anne Chevalier and Carole Dornier, Presses Universitaires de Caen, 2003, pp. 271-279.
Chevalier, Anne. "La vogue du récit d'enfance dans la seconde moitié du XXe siècle." Le récit d'enfance et ses modèles, edited by Anne Chevalier et Carole Dornier, Presses Universitaires de Caen, 2003, pp. 191-200.
Denooz, Laurence et Nehmetallah Abi-rached. "Introduction." L'enfance dans la culture arabe contemporaine, Littérature et cultures arabes contemporaines, special issue of Littérature et culture arabes contemporaines, no. 5, 2017, pp. 15-16.
Laurrent, Éric. Berceau. Les Éditions de Minuit, 2014.
Michelet, Jules. Le Peuple. Flammarion, 1974.
Michelucci, Pascal. "Le parti pris de l'expression. Le roman maniériste d'Éric Laurrent." Narrations d'un nouveau siècle. Romans et récits français (2001-2010), edited by Bruno Blanckeman and Barbara Havercroft, Presses Sorbonne Nouvelle, 2013, pp. 265-276.
Montaigne, Michel de. Essais, livre I. Gallimard, 1965.
Morin, Edgar. L'identité humaine. Seuil, 2001.
Perec, Georges. W ou le souvenir d'enfance. 1975. Gallimard, 1993.
Rousseau, Jean-Jacques. Émile ou de l'éducation. 1762. Éditions Garnier Frères, 1964.
Tran Huy, Minh. "Entretien avec Éric Laurrent." http://www.zone-litteraire.com/litterature/interviews/entretien-avec-eric-laurrent.html. Page consultée le 11 mai 2019.
Turin, Gaspard. "Éric Laurrent, la liste et l'écriture du maximalisme." Existe-t-il un style Minuit ?, edited by Michel Bertrand, Karine Germoni, and Annick Jauer, Presses Universitaires de Provence, 2014, pp. 223-233.
Schaffner, Alain. L'Ère du récit d'enfance en France depuis 1870. Artois Presses Université, 2005.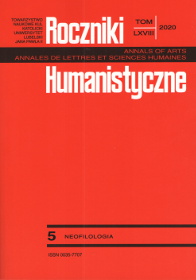 Copyright (c) 2020 Roczniki Humanistyczne
This work is licensed under a Creative Commons Attribution-NonCommercial-NoDerivatives 4.0 International License.