"Places that Have Lost Their Memory": Landscapes of Postmemory in the Pepper Forgers. A Family History by Monika Sznajderman
Keywords:
Landscape of postmemory, Holocaust, Monika Sznajderman, places without memory, emptiness
Abstract
Monika Sznajderman reconstructs the experiences of her Jewish family from her father's side in her commemorative prose. From the postmemory perspective of the future generations, she deals with the traumatic effects of past experiences, pre-war life and extermination during the war. This article analyses the way of experiencing the landscape, and its literary depiction, after the Holocaust, stressing the transgenerational transmission of experiences and the double perception of places. The landscapes of post-memory are contaminated by a dominant feeling of emptiness, the absence of their former residents and the memories (or silence) of the survivors. The specific places of family history visited by the author are suspended between the past and the present. The simultaneous presence and lack of any traces of former Jewish life marks them with an aura of incredibleness. In this article, the role of the family's photographs that survived the Holocaust is also highlighted, testifying to the existence and everyday life of their Jewish ancestors and showing the "places that have lost their memory".
References
Aichinger, Ilse. Subtexte. Journal. Edition Korrespondenzen, 2006.
Assmann, Aleida. Erinnerungsräume. Formen und Wandlungen des kulturellen Gedächtnisses. 3. Ausgabe. C.H. Beck, 2006.
Barthes, Roland. Die helle Kammer. Bemerkung zur Photographie. Translated by Dietrich Leube, Suhrkamp, 1989.
Bojarska, Katarzyna. "Historia Zagłady i literatura (nie)piękna. Tworki Marka Bieńczyka w kontekście literatury posttraumatycznej." Pamiętnik Literacki, vol. 99, fasc. 2, 2008, pp. 89-106.
Fuchs, Anne. "Von Orten und Nicht˗Orten. Fremderfahrung und dunkler Tourismus in Sebalds Prosa." W. G. Sebald. Intertextualität und Topographie, edited by Irene Heidelberger˗Leonhard und Mireille Tabah, LIT, 2009, pp. 55-71.
Hirsch, Marianne. Family Frames. Photography, Narrative and Postmemory. Harvard UP, 1997.
Hirsch, Marianne. "Surviving Images: Holocaust Photographs and the Work of Postmemory." The Yale Journal of Criticism, vol. 14, no. 1, 2001, pp. 5-37.
Meyran, Régis. "Génocides. Lieux (et non-lieux) de mémoire." Revue d'histoire de la Shoah, le Monde juif, vol. 181, 2004, pp. 138-139.
Moré, Angela. "Die unbewusste Weitergabe von Traumata und Schuldverstrickungen an nachfolgende Generationen." Journal für Psychologie, vol. 21, 2, 2013, pp. 1-34.
Pastuszka, Anna. "'Kontaminierte' ostmitteleuropäische Landschaften bei Hanna Krall und Andrzej Stasiuk". Auf den Ruinen der Imperien. Erzählte Grenzräume in der mittel- und osteuropäischen Literatur nach 1989, edited by Andree Michaelis-König, Neofelis Verlag, 2018, pp. 87-108.
Szczepan, Aleksandra. "Krajobrazy postpamięci." Teksty Drugie, no. 1 (145), 2014, pp. 103˗126.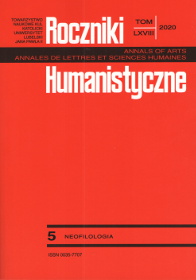 Copyright (c) 2020 Roczniki Humanistyczne
This work is licensed under a Creative Commons Attribution-NonCommercial-NoDerivatives 4.0 International License.