"…Inconspicuousness and a Lot of Memories": Mediums of Memory in Bettina Spoerri's Novel Konzert für die Unerschrockenen (2013)
Keywords:
ekphrasis, photography, visual arts, diary, Chekhov, Rothko, Horn
Abstract
In this article, the reconstruction of the family history in Bettina Spoerri's novel Konzert für die Unerschrockenen [Concert for the Fearless] is analysed. The narration contains different mediums of memory. The central medium of memory is music: for the narrator, this archive of the memory mainly consists of old recordings, but also of reminiscences about the concerts and private performances of Leah, the main protagonist of the novel. Photographs, by means of ekphrasis, serve as another essential medium of memory, opening up "the windows of time" (Overath). In this article, these mediums are considered in the context of the ideas of Sontag and Barthes. The widely understood concept of art (paintings by Rothko, installations by Horn, plays by Chekhov) is yet another medium of memory, connecting the present with a past that does not exist any more. This reconstructed story is part of the genealogy of the writer, who belongs to the third post-Shoah generation.
References
arttv.ch. Das Kulturfernsehen im Netz, 29 July 2014, www.arttv.ch/ literatur/portrait-bettina-spoerri. Accessed 21 May 2018.
Barthes, Roland. Die helle Kammer. Bemerkung zur Photographie. Suhrkamp, 1989.
Esche-Ramshorn, Christiane. "Der Naziterror und die Folgen für die Kunst am Beispiel von Charlotte Salomon, Mark Rothko und Alberto Burri." Jüdische Intellektuelle im 20. Jahrhundert. Literatur- und kulturgeschichtlichen Studien, edited by Ariane Huml and Monika Rappenecker, Königshausen & Neumann, 2003, pp. 17-33.
Grynberg, Mikołaj. Rejwach. Nisza, 2017.
Horstkotte, Silke. Nachbilder. Fotografie und Gedächtnis in der deutschen Gegenwartsliteratur. Böhlau, 2009.
Interview mit Bettina Spoerri. tachles. Das Jüdische Wochenmagazin, 3 July 2013, www.tachles.ch/ radio/autorin-bettina-spoerri-ueber-ihren-ersten-roman-und-ihre-aufgabe-als-literaturvermitt lerin/95. Accessed 15 March 2018.
Neuwirth. Pamela. "Konzert für die Unerschrockenen. Die Autorin im Gespräch." Literadio 9 October 2013, cba.fro.at/246062. Accessed 4 November 2017.
Newman, Rafaël, ed. Zweifache Eigenheit. Neuere jüdische Literatur in der Schweiz. Limmat, 2001.
Overath, Angelika. "Die verlorene Zugehörigkeit." Neue Zürcher Zeitung 24 Oct. 2013, www.nzz.ch/die-verlorene-zugehoerigkeit-1.18172530. Accessed 15 Nov. 2015.
Sontag, Susan. "In Platons Höhle." Über Fotografie. Translated by Mark W. Rien and Gertrud Baruch, edited by Susan Sontag, Hanser, 1989, pp. 9-28.
Spoerri, Bettina. Konzert für die Unerschrockenen. Braumüller, 2013.
Stampfli, Carla. "Mit Anna geht es auf eine 100-jährige Spurensuche." Aargauer Zeitung, 14 Nov. 2014, www.aargauerzeitung.ch/aargau/lenzburg/mit-anna-geht-es-auf-eine-100-jaehrige-spuren suche-128556050. Accessed 8 June 2018.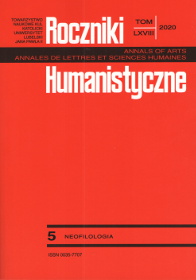 Copyright (c) 2020 Roczniki Humanistyczne
This work is licensed under a Creative Commons Attribution-NonCommercial-NoDerivatives 4.0 International License.