Norwid's Roma antiqua in its full version
Renata Gadamska-Serafin

Jagiellonian University of Kraków
Keywords:
Norwid; Italy; Norwid's ancient Rome; Roma antiqua; Romantic antiquity; romanitas
Abstract
Magdalena Karamucka's book Antyczny Rzym Norwida [Norwid's Ancient Rome] is the first monographic study of the problem addressed in the title. Ancient Rome is presented in this valuable study from different perspectives: as a geographical, historical and cultural reality and as a literary topos. The starting point for the discussion is a chapter devoted to a Roman episode of Norwid's biography and his Roman readings. Another subject of analysis are the poet's political, religious and historiosophical reflections about Rome and his remarks on literature, art and Roman theatre. The main, comparative part is devoted to a meticulous analysis of reminiscences, quotations (paraphrases), titles, etc. taken from works of Roman authors (including Catullus, Horace, Juvenal, Ovid, Virgil), Norwid's translational work and his Roman correspondence. However, Norwid's Roma antiqua presented in the monograph is not frozen in a dead form. The author shows in an interesting and convincing way how this romanitas becomes a starting (or reference) point for the author of Quidam in his reflections on almost all aspects of his contemporary times.
References
Amison A., An English Milord in Europe and Italy, Venezia 2016, Ed. II.
Borowiec A., "Album Orbis" Cypriana Norwida jako księga sztukmistrza, Gdańsk 2015.
Chlebowski P., Romantyczna silva rerum. O Norwidowym "Albumie Orbis", Lublin 2009.
Dobrowolski W., Norwida opowieść o wiecznym Rzymie i wiecznym człowieku Quidamie, "Pamiętnik Literacki" 1927, nr 24, s. 291-308.
Dowling G., In Venice and in the Veneto with Lord Byron, Venezia 2008.
Dunajski A., Naród i państwo w chrześcijańskiej refleksji Norwida, [w:] Norwid bezdomny. W 180. rocznicę urodzin poety, red. J. Kopciński, Warszawa 2002, s. 105-115.
Karamucka M., Antyczny Rzym Norwida, Poznań 2016.
Klasycyzm. Estetyka – doktryna literacka – antropologia, red. K. Meller, Warszawa 2009.
Niewczas Ł., Naród-analfabeta czyta księgę dziejów. Hermeneutyka przeszłości w wierszu "O historii" Norwida, [w:] Norwid wobec historii, red. E. Chlebowska, Ł. Niewczas, Lublin 2014, s. 351-368.
Płaszczewska O., Wizja Włoch w polskiej i francuskiej literaturze okresu romantyzmu (1800-1850), Kraków 2003.
Pniewski D. Między obrazem a słowem. Studia o poglądach estetycznych i twórczości literackiej Norwida, Lublin 2005.
Potocki S.K., O sztuce u dawnych, czyli Winkelman polski, Warszawa 1815.
"Quidam". Studia o poemacie, red. P. Chlebowski, Lublin 2011.
Sinko T., Klasyczny laur Norwida, [w:] Hellada i Roma w Polsce, Lwów 1933, s. 40-115.
Śliwiński M., Norwid o chrześcijanach z katakumb, "W Drodze" 1992, nr 3, s. 70-76.
Śliwiński M., Norwid wobec antyczno-średniowiecznej tradycji uniwersalizmu europejskiego, Słupsk 1992.
Śliwiński M., Norwid wobec tradycji antyku i chrześcijaństwa, "Słupskie Prace Humanistyczne" 1992, nr 11a, s. 213-242.
Śliwiński M., Roma pogana Norwida – retrospektywna utopia totalitaryzmu, "Filomata" 1993, s. 215-228.
Śliwiński M., Rzym pogański w "Quidamie" Norwida, "Słupskie Prace Humanistyczne" 1990, nr 8a (1987) , s. 85-104.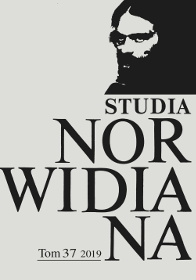 Copyright (c) 2019 Studia Norwidiana
This work is licensed under a Creative Commons Attribution-NonCommercial-NoDerivatives 4.0 International License.