Friends of Norwid from Maria de Bonneval's album
Keywords:
Norwid's friends; history of photography; CdV; Maria de Bonneval's album; Sybilla de Bonneval; Konstancja Górska
Abstract
The article offers a general description of the contents of a 19th century photo album belonging to Maria de Bonneval née Gerlicz, the niece of Konstancja Górska. Along with the history of photography and CdV photos, which revolutionised the market and customs at that time, the figure of the owner of the album is presented – with the use of previously unknown materials. Norwid had been guest to her Parisian house for several decades, almost as a household member. It turns out that in this 200-photograph album currently owned by the Bloch Family Foundation, more than 70 people were known to Norwid. We have thus the opportunity to see the images of many of them for the first time, while the album can be treated as a document belonging to Norwid himself.
References
Encyclopedia of Nineteenth-Century Photography, red. J. Hannavy, t. I, New York 2018.
Kozielec T., Fotografie albuminowe – wytwarzanie, właściwości, trwałość i ochrona przed niszczeniem, "Ochrona Zabytków" 58(2010), nr 1-4 (s. 123-135).
Pudełek J., Kim była bohaterka norwidowskiego wiersza "Do słynnej tancerki rosyjskiej – nieznanej zakonnicy"?, "Poezja" 1966, nr 7, s. 4-6.
Trojanowiczowa Z., Dambek Z., Czarnomorska J., Lijewska E., Pluta M., Grzeszczak I., Kalendarz życia i twórczości Cypriana Norwida, t. I-III, Poznań 2007.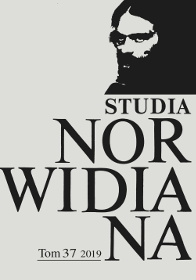 Copyright (c) 2019 Studia Norwidiana
This work is licensed under a Creative Commons Attribution-NonCommercial-NoDerivatives 4.0 International License.