Russia: Asia or Europe? Reflections on the awareness of the Polish intelligentsia in the 19th century as the ideological context of Norwid's work
Keywords:
Russia; Europe; European awareness; pan-Slavism; boundaries of Europe; Slavs
Abstract
The article discusses the views of the Polish intelligentsia in Cyprian Norwid's lifetime on the issue of Russia's membership in Europe. Among the discussed examples there are particularly frequent attempts to push Russia out of Europe by emphasising its Asian character. The examples of pan-Slavic ideas are less frequent. Against this background, Norwid's views on the question of Russia's Asianness seem to be exceptionally balanced. The poet noticed that Russia was different, but he believed that isolating it from Europe could be more detrimental than beneficial.
References
"Niepodległość" 1863.
Buława E., Krople czary. Poezje, Drezno 1865.
Czaplicki F.W., Czarna księga: 1863-1868, Kraków 1869.
Davies N., Europa – rozprawa historyka z historią, przeł. E. Tabakowska, Kraków 2010.
Delanty G., Odkrywanie Europy. Idea, tożsamość, rzeczywistość, przeł. R. Włodek, Warszawa–Kraków 1999.
Duchiński F., Galeria obrazów polskich. Oddział 1, Różnice ludów indoeuropejskich a turańskich pod względem fizjonomii i odzieży, Paryż 1863.
Duchiński F., Pisma…, t. I-III, Rappersvil 1901-1904.
Granice między narodami Aria-Europejskimi i Turano-Moskiewskimi, [b.m.] 1863.
Halecki O., Historia Europy – jej granice i podziały, przeł. J.M. Kłoczowski, Lublin 2000.
Inglot M., Norwidowska Europa, [w:] Kategoria Europy w kulturach słowiańskich, red. T. Dąbek-Wigrowa, A.Z. Makowiecki, Warszawa 1992.
Kalendarz życia i twórczości Cypriana Norwida, t. I-III, red. Z. Trojanowiczowa, E. Lijewska, Z. Dambek, Poznań 2007.
Kamieński H., Rosja i Europa: Polska, Paryż 1857.
Kraszewski J.I., Moskal. Obrazek współczesny, Lipsk 1865.
Kraszewski J.I., Rachunki: (pt.1-2). z roku 1867 (rok drugi), Poznań 1868.
Michna W., Pogląd na wschodnią Europę i Azją i wyjaśnienie stosunków, jakie miała Moskwa z ludami sławiańskiemi od pierwocia bytu do czasów naszych, Przemyśl 1864.
Norwid C.K., Pisma wszystkie, zebrał, tekst ustalił, wstępem i uwagami krytycznymi opatrzył J.W. Gomulicki, t. I-XI, Warszawa 1971-1976.
Pietrusiński L., Podróże, przejażdżki i przechadzki po Europie, t. I, Warszawa 1843.
Pol W., Historyczny obszar Polski, [w:] tenże, Dzieła prozą, t. V, Lwów 1878.
Władysław Ludwik Anczyc: życie i pisma, oprac. M. Szyjkowski, t. II: Wiersze i poemata; Kraków 1909.
Zbiór poetów polskich XIX w., ułożył i oprac. P. Hertz, Księga druga, Warszawa 1959.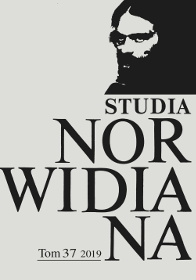 Copyright (c) 2019 Studia Norwidiana
This work is licensed under a Creative Commons Attribution-NonCommercial-NoDerivatives 4.0 International License.