Inside the crystal ball of tradition
Keywords:
baroque, mannerism, enlightenment, romanticism, romantic irony, 19th century, literary tradition, grotesque, infinity
Abstract
The article is a review of Agata Seweryn's book Between the Worlds. Studies in the Literature of the Enlightenment and Romanticism. The review's author presents the composition of the book and examines the research problems raised in it in greater detail. She comments on the studies included in the publication as interesting suggestions for interpretive supplements of selected romantic poems and works. She draws attention to those aspects that reveal the richness inherent in the works, and not yet described enough. They are introduced by references to the Baroque tradition or reflection on normative poetics and rhetorics.
References
Kostkiewiczowa T., Krasicki – perspektywy badań twórczości, [w:] taż, Z oddali i z bliska. Studia o wieku oświecenia, Warszawa 2010, s. 281-304.
Kostkiewiczowa T., Oświecenie a barok: miejsca wspólne, miejsca różne, [w:] taż, Z oddali i z bliska. Studia o wieku oświecenia, Warszawa 2010, s. 179-214.
Seweryn A., Światłocienie i dysonanse. O Norwidzie i tradycji literackiej, Lublin 2013.
Trybuś K., Norwid z epoki baroku?, [w:] "Studia Norwidiana" 33: 2015, s. 294-302.
Ziołowicz A., Romantycy na Polach Elizejskich. Z dziejów rozmowy zmarłych, [w:] taż, Poszukiwanie wspólnoty. Estetyka dramatyczności a więź międzyludzka w literaturze polskiego romantyzmu (preliminaria), Kraków 2011.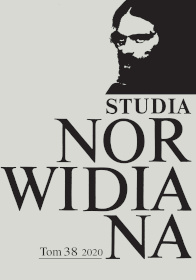 Copyright (c) 2020 Studia Norwidiana
This work is licensed under a Creative Commons Attribution-NonCommercial-NoDerivatives 4.0 International License.