The trial of Quidam in the light of Roman law
Piotr Chlebowski

The John Paul II Catholic University of Lublin, Institute for the Study of Cyprian Norwid's Literature
Keywords:
Norwid; Quidam; law; emperor; Tertullian; judge; official
Abstract
The article is an attempt to analytically portray the scene of the trial of three Christians, taking place on the Capitol Hill, in front of the temple of Jupiter in Norwid's poem Quidam. This monumental fresco, divided into many smaller sequences, clearly distinguishes itself from intimate shots prevalent in the text, narrowed to small spaces, small groups of people. The analysis focuses here primarily on the reconstruction of the trial from the perspective of Roman law. Ultimately, this leads to the recognition of historical legal awareness of Norwid, who, upon constructing one of the fundamental visions of his work, drew on the knowledge and literature of the mid-19th-century concerning the role and significance of Roman law.
References
Amieleńczyk K., Rzymskie prawo karne w reskryptach cesarza Hadriana, Lublin 2006.
Birley A.R., Hadrian. Czas niestrudzony, przekł. R. Wiśniewski, Warszawa 2002.
Carcopino J., Życie codzienne w Rzymie w okresie cesarstwa, przekł. M. Pąkcińska, Warszawa 1960.
Dębiński A., Sacrilegium w prawie rzymskim, Lublin 1995.
Dyjakowska M., Crimen laesae maiestatis. Studium nad wpływami prawa rzymskiego w dawnej Polsce, Lublin 2010.
Litewski W., Rzymski proces karny, Kraków 2003.
Papierkowski Z., Proces karny w starożytności greckiej i rzymskiej, "Roczniki Humanistyczne" 6(1957), z. 2, s. 159-176.
Sajkowski R., Sprawa Falaniusza i Rubriusza. Początek procesów o obrazę majestatu za rządów Tyberiusza, "Zeszyty Naukowe Wyższej Szkoły Pedagogicznej w Olsztynie" Prace Historyczne II 13(1998), s. 11-21.
Sajkowski R., Klasyfikacja przestępstw w obrazę majestatu za rządów Tyberiusza na podstawie katalogu Swetoniusza (Tib. 58), "Echa Przeszłości" 2000, s. 17-28.
Sajkowski R., Divus Augustus pater. Kult boskiego Augusta za rządów dynastii julijsko-klaudyjskiej, Olsztyn 2001.
Święcicka-Wystrychowska P., Proces Jezusa w świetle prawa rzymskiego. Studium z zakresu rzymskiego procesu karnego w prowincjach wschodnich w okresie wczesnego pryncypatu, Kraków 2005.
Zabłoccy M. i J., Ustawa XII tablic. Tekst – tłumaczenie – objaśnienia, Warszawa 2003.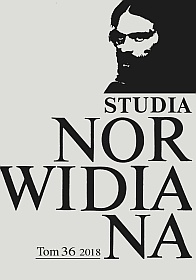 Copyright (c) 2018 Studia Norwidiana
This work is licensed under a Creative Commons Attribution-NonCommercial-NoDerivatives 4.0 International License.