On "taking the bones away": The body of Cyprian Norwid and Montmorency
Karol Samsel

Institute of Polish Literature at the University of Warsaw
Keywords:
Norwid; Montmorency; Montmartre; Hotel Lambert; tomb concession; funeralism
Abstract
Taking into account the funeral scandal related to the poet's burial, it can be rather difficult to study the fates of Norwid's body or to put under scrutiny the whole problem area of the poetic "necrography" of the author of Promethidion as well of the broadly understood funeralism of the Great Emigration. In the sense presented above, the author follows the steps taken by Stanisław Rosiek, who focused his research on Adam Mickiewicz's body and devoted him a monograph entitled Zwłoki Mickiewicza. Próba nekrografii poety [Mickiewicz's body: an attempt at the poet's necrography]. The necrographic myth related to Cyprian Norwid has never emerged and is very unlikely to develop in the future. Yet, it may be worthwhile to venture an opposite myth in Norwid studies, which can be described with the use of the metaphor proposed by Jean-Pierre Richard of "depriving culture of the bones of (its) fathers." The article also takes a view of Norwid as "an émigré against the émigrés" in the sense of his opposition to the funeral propaganda of the supporters of the Czartoryski Family using the Montmorency cemetery, while Norwid contested their choice, acting as "Norwid of Montmartre."
References
Fert J., Nieznane norwidiana w Bibliotece Polskiej w Paryżu, "Studia Norwidiana" 1993, nr 11.
Gomulicki J.W., Dwa groby C. N., "Kierunki" 1966, nr 44.
Gomulicki J.W., Między "Scytami" a "świętymi". Na marginesie nieznanego listu Norwida, "Poezja" 1975, nr 1(50).
Górzyński S., Groby polskie na Montmartre i ich opiekunowie, [w:] Polacy pochowani na Cmentarzu Montmartre oraz Saint-Vincent i Batignolles w Paryżu, red. A. Biernat, S. Górzyński, Warszawa 1999.
Halkiewicz-Sojak G., Wstęp, [w:] Z. Krasiński, Przedświt, wstęp, komentarz i opracowanie G. Halkiewicz-Sojak, Toruń 2004.
Kosim J., Miriam – odkrywca Norwida, "Biuletyn Informacyjny Biblioteki Narodowej" 2001, nr 3/158.
Lijewska E., Zakon rycerski czy "kolonia karna"? Norwid w Domu św. Kazimierza, [w:] Biografie romantycznych poetów, red. Z. Trojanowiczowa, J. Borowczyk, Poznań 2007.
Mickiewicz W., Pamiętniki, tekst na nowo opracował, wstępem, przypisami i notą opatrzył M. Troszyński, Warszawa 2012.
Norwid C., Pisma wszystkie, zebrał, tekst ustalił, wstępem i uwagami krytycznymi opatrzył J.W. Gomulicki, t. I-XI, Warszawa 1971-1976.
Richard J.-P., Śmierć i jej postacie, [w:] Antologia współczesnej krytyki literackiej we Francji, oprac. W. Karpiński, Warszawa 1974.
Skowronek J. (oraz Bochenek A., Cichowski M., Filipow K.), Cmentarz polski w Montmorency, Warszawa 1986.
Słowacki J., Dzieła wszystkie, t. VII, red. J. Kleiner, Wrocław 1956.
Trojanowiczowa Z., Dambek Z. przy współudziale J. Czarnomorskiej, Kalendarz życia i twórczości Cypriana Norwida, t. I: 1821-1860, Poznań 2007.
Trojanowiczowa Z., Lijewska E. przy współudziale M. Pluty, Kalendarz życia i twórczości Cypriana Norwida, t. II: 1861-1883, Poznań 2007.
Wilkońska P., Moje wspomnienia o życiu towarzyskim w Warszawie, oprac. Z. Lewinówna, red. J.W. Gomulicki, Warszawa 1959.
Zbijewska K., Przecierpiał lat 40 oddalenia od ojczyzny, "Dziennik Polski" 1967, nr 119.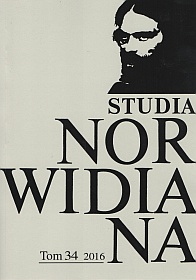 Copyright (c) 2016 Studia Norwidiana
This work is licensed under a Creative Commons Attribution-NonCommercial-NoDerivatives 4.0 International License.