Stracone gniazdo. [The lost nest]. Norwid – Szermentowski
Edyta Chlebowska

The John Paul II Catholic University of Lublin, Institute for the Study of Cyprian Norwid's Literature
Keywords:
Cyprian Norwid; Józef Szermentowski; 19th-century Polish painting art; 19th-century Polish drawing art; January Uprising
Abstract
This article is an interpretative attempt of the forlorn drawing made by Norwid in the mid-1770s, entitled Scena symboliczna [A symbolic scene] (also known as Aniołowie smierci [Angels of Death]). The drawing relates to a painting by Józef Szermentowski, entitled Stracone gniazda [The Lost Nests] (1865), which presented a gloomy vision of a village in the region of Kielce and which was an allegory of the defeat of the Polish nation after the collapse of the January Uprising. The comparative analysis of both depictions allows pinpointing the interdependences between the two works, which shed more light on the meaning of Norwid's highly enigmatic composition. The analysis also takes into account the personal relationship between the two artists, who came close in Szermentowski's late days. The article pursues three potential interpretation paths, relying on the assumption that Norwid was inspired by the younger colleague's work. Yet, none of the three is pinpointed as privileged so that, ultimately, the question of the topic of Norwid's depiction remains open. It is observed, at the same time, that Scena symboliczna is a regular example of Norwid's scarce plastic legacy in that it favours literary values over plastic mastery. The work shows evident tensions of senses and meanings, which cannot be either satisfactorily or satisfyingly conveyed via the drawing techniques employed by Norwid.
References
Bałucki M., Wystawa Sztuk Pięknych w Krakowie, "Tygodnik Ilustrowany" 1(1868), s. 296.
Dębicki Z.L., Dwór i plebania, "Przegląd Lwowski" 1871, nr 15, s. 163-171.
Jakimowicz I., Józef Szermentowski, Wrocław 1950.
Jakimowicz I., "Stracone gniazda" Józefa Szermentowskiego, "Studia Muzealne" 1(1953), s. 44-49.
Jakimowicz I., Tomasz Zieliński: kolekcjoner i mecenas, Wrocław–Warszawa–Kraków–Gdańsk 1973.
Jakimowicz I., Twórczość Józefa Szermentowskiego w kręgu mecenatu Tomasza Zielińskiego, "Biuletyn Historii Sztuki" 1971, nr 1, s. 96-99.
Jakimowicz I., Twórczość Józefa Szermentowskiego. Ze studiów nad początkiem realizmu w polskim malarstwie pejzażowym, "Biuletyn Historii Sztuki" 1951, nr 1, s. 5-54.
Krajewska Z., Wronsciana i norwidiana kórnickie w korespondencji Zenona Przesmyckiego, "Pamiętnik Biblioteki Kórnickiej" 1973, z. 11, s. 191-326.
Malarstwo polskie 1766-1945. Katalog zbiorów Muzeum Narodowego w Poznaniu, t. VIII, oprac. D. Suchocka, Poznań: Muzeum Narodowe w Poznaniu, 2005.
Marrène-Morzkowska W., Symbolista sprzed pięćdziesięciu laty. Odczyt publiczny na dochód osad rolnych, "Wędrowiec" 1900, nr 16, s. 307-308.
Melbechowska-Luty A., Sztukmistrz. Twórczość artystyczna i myśl o sztuce Cypriana Norwida, Warszawa 2001.
Micke-Broniarek E., Malarstwo polskie: realizm, naturalizm, Warszawa 2005.
Micke-Broniarek E., Mistrzowie pejzażu XIX wieku, Wrocław 2001.
Nowak J., Władysław Zamojski. O sprawę polską w Europie (1848-1868), Poznań 2002.
Sawicki S., Norwida walka z formą, Warszawa 1986.
Szermentowski E., Norwid o Józefie Szermentowskim, "Zeszyty Kieleckie" 1(1971), s. 72-76.
Trojanowiczowa Z., Dambek Z., przy współudziale Czarnomorskiej J., Kalendarz życia i twórczości Cypriana Norwida, t. I: 1821-1860, Poznań 2007.
Trojanowiczowa Z., Lijewska E. przy współudziale M. Pluty, Kalendarz życia i twórczości Cypriana Norwida, t. II: 1861-1883, Poznań 2007.
Wolff J., Dwie wystawy, "Głos Plastyków" 1947, grudzień, s. 84.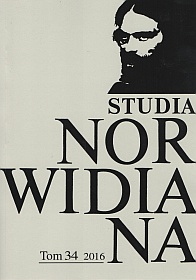 Copyright (c) 2016 Studia Norwidiana
This work is licensed under a Creative Commons Attribution-NonCommercial-NoDerivatives 4.0 International License.