Ukraine in the Poland's Foreign Policy in the Era of the Second Government of the United Right Wing under the Aegis of the Law and Justice Party (2015-2018)
Keywords:
Poland; Ukraine; the European Union; NATO; the United States of America; the Russian Federation; the Federal Republic of Germany; Intermarium
Abstract
The current model of Polish-Ukrainian relations is drawing to an end, while the new one is in the statu nascendi stage. The fundamental contradiction between the basic interests of Kiev and Warsaw consists in the fact that while Ukraine is seeking ways of integrating with the EU and needs a strong Europe as well as ipso facto strengthening the European community, Poland under the rule of the PiS-led coalition is heading towards Euro-skepticism and undermining cohesion of the European Union, even though after elections in Austria, the Netherlands and France in 2017 in particular, pendulum of the European policy is leaning towards the centre again. The present-day Poland, by turning its back on the European hard core, i.e. Germany and France, ceases to be an attractive partner for Ukraine, which in its turn is strengthening ties with Berlin due to Poland's faltering position.
References
Bieleń S., Panrosjanizm w rosyjskiej tożsamości mocarstwowo-imperialnej, w: Konflikty zbrojne na Ukrainie i Bliskim Wschodzie: nowe wyzwania dla międzynarodowego bezpieczeństwa, red. M. Mróz, "Dyplomacja i Bezpieczeństwo" 2015, nr 1(3), s. 79-94.
Dudek A., System decyzyjny w polityce zagranicznej Polski w okresie tranzycji (1989-1992). Mechanizmy, procedury i instytucje praktyka, Wrocław 2012.
Konończuk W., Czas na doktrynę postgiedrojciowską wobec Ukrainy, "Nowa Europa Wschodnia" 1(2018).
Mróz M., Między Polską piastowską a jagiellońską. Kontrowersje wokół kierunków realizacji polskiej polityki zagranicznej po akcesji do Unii Europejskiej, w: Polska polityka wschodnia, red. M. Mróz, "Dyplomacja i Bezpieczeństwo" 2013, nr 1(1), s. 15-30.
Mróz M., Nowe wektory polityki zagranicznej Polski po wyborach 2015 r. i ich konsekwencje dla relacji Polska-Ukraina, "Visnyk of the Lviv University. Series International Relations" (Lviv) 2016, nr 38, cz. 4.
Mróz M., Wielki projekt małych krajów. Od Międzymorza do Trójmorza w polityce zagranicznej Polski w dobie drugiego rządu Prawa i Sprawiedliwości, w: Polityka zagraniczna Polski wobec państw, regionów i organizacji, red. M. Mróz, A. Drzewicki, "Dyplomacja i Bezpieczeństwo" 2017/2018, nr 1(5), s. 15-41.
Obremski J., Zagrożenia i szanse, "Nowa Europa Wschodnia" 1(2018).
Pełczyńska-Nałęcz K., Pożegnanie z Giedroyciem, www.batory.org.pl [dostęp: 14.05.2018], s. 7.
Polityka zagraniczna. Aktorzy, potencjały, strategie, red. T. Łoś-Nowak, Warszawa 2011.
Szczerek Z., Międzymorze. Podróże przez prawdziwą i wyobrażoną Europę Środkową, Wołowiec–Warszawa 2017.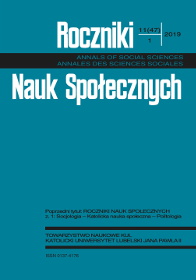 Copyright (c) 2019 Roczniki Nauk Społecznych
This work is licensed under a Creative Commons Attribution-NonCommercial-NoDerivatives 4.0 International License.