Pamięć zbiorowa i dziennikarstwo newsowe
Słowa kluczowe:
newsy, dziennikarstwo newsowe, pamięć zbiorowa, reprezentacje przeszłości
Abstrakt
Głównym celem artykułu jest analiza relacji między dziennikarstwem newsowym a pamięcią zbiorową. Uwzględniając podstawowe zasady funkcjonowania dziennikarstwa newsowego, ukazano tu specyfikę form odniesień do przeszłości, jakie pojawiają się w medialnych materiałach informacyjnych. Jako najbardziej znaczące procesy określające sposoby obecności treści pamięci w newsach wskazano typifikację, premediację i remediację. Omówiono także główne typy odwołań do przeszłości funkcjonujące w obrębie dziennikarstwa newsowego.
Bibliografia
Barnhurst K.G. (2003), The makers of meaning: National Public Radio and the new long journalism,1980-2000, Political Communication, nr 20(1), s. 1-22.
Berkowitz D. (1992), Non-routine news and newswork: Exploring a what-a-story, Journal of Communication, nr 42(1), s. 82-94.
Dyczewski L. (2011), Kultura w całościowym planie rozwoju, Warszawa: Instytut Wydawniczy PAX.
Edy J.A., Daradanova M. (2006), Reporting through the lens of the past. From Challenger to Columbia, Journalism nr 7(2), s. 131-151.
Edy J.A. (1999), Journalistic uses of collective memory, Journal of Communication, nr 49(2), s. 71-85.
Erll A. (2018), Kultura pamięci. Wprowadzenie, posłowie i red. naukowa M. Saryusz-Wolska, Warszawa: Wydawnictwa Uniwersytetu Warszawskiego.
Galtung J., Ruge M.H. (1965), The structure of foreign news: The presentation of the Congo, Cuba and Cyprus crises in Four Norwegian Newspapers, Journal of Peace Research, nr 2(1), s. 64-90.
Grusin R.A. (2004), Premediation, Criticism, nr 46(1), s. 17-39.
Hoskins A., O'Loughlin B. (2010), War and media: The emergence of diffused war, Cambridge: Polity Press.
Huyssen A. (1995), Twilight memories: marking time in a culture of amnesia, New York: Routledge.
Kitch C. (2005), Pages from the past: History and memory in American magazines, Chapel Hill: University of North Carolina Press.
Kula M. (2002), Nośniki pamięci historycznej, Warszawa: Wydawnictwo DiG 2002.
Lang K., Lang G.E. (1989), Collective memory and the news, Communication, nr 11, s. 123-129.
Lule J. (2001), Daily news, eternal stories: The mythological role of journalism, New York: Guilford Press.
McDaniel M.A., Einstein, G.O. (2007), Prospective memory: An overview and synthesis of an emerging field, Thousand Oaks, CA, Sage.
Meyers O. (2002), Still photographs, dynamic memories: an analysis of the visual presentation of Israel's history in commemorative newspaper supplements, Communication Review, 5(3), s. 179-205.
Mihelj S. (2009), Television news and the dynamics of national remembering, [w:] E. Castello, A. Dhoest, H. O'Donnell (red.), The nation on screen: Discourses of the national on global television, Cambridge: Cambridge Scholars Publishing, s. 119-138.
Schudson M. (1992), Watergate in American memory: How we remember, forget and reconstruct the past, New York: BasicBooks.
Schütz A. (1984), Potoczna i naukowa interpretacja ludzkiego działania, [w:] E. Mokrzycki (red.), Kryzys i schizma. Antyscjentystyczne tendencje w socjologii współczesnej, Warszawa: Państwowy Instytut Wydawniczy, t. 1, s. 137-192.
Szwed R. (2009), Proces produkcji informacji: od gatekeepera do public relations, [w:] L. Dyczewski (red.), Jaka informacja?, Lublin–Warszawa: Wydawnictwo KUL, Centrum Europejskie Natolin, s. 53-73.
Taibbi M. (2021), Pandemia przyspieszyła polaryzację. Wywiad przeprowadził K. Cieślik, Rzeczpospolita: Plus-Minus, 20-21.02.2021.
Teer-Tomaselli R. (2006), Collective memory and media news, Global Times. The Communication for Development Journal, nr 5.
Tuchman G. (1972), Objectivity as strategic ritual: An examination of newsmen's notion of objectivity, American Journal of Sociology, nr 77(4), s. 660-679.
Zandberg E., Meyers O., Neiger M. (2012), Past continuous newsworthiness and the shaping of collective memory, Critical Studies in Media Communication, nr 29(1), s. 65-79.
Zandberg E. (2010), The right to tell the (right) story: Journalism, authority and memory, Media, Culture & Society, nr 32(1), s. 5-24.
Zelizer B. (1992), "Covering the body": The Kennedy assassination, the media and the shaping of collective memory, Chicago: University of Chicago Press.
Zelizer B. (2008), Journalism's memory work, [w:] A. Erll, A. Nünning (red.), Cultural memory studies: An international and interdisciplinary handbook, Berlin–New York: Walter de Gruyter, s. 379-387.
Zelizer B. (1993), News: First or final draft of history?, Mosaic, 2(1), s. 2-3.
Zelizer B. (2004), When war is reduced to a photograph, [w:] S. Allan, B. Zelizer (red.), Reporting war: Journalism in wartime, London: Routledge, s. 115-135.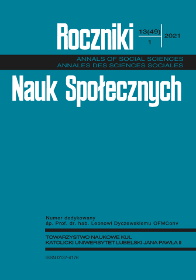 Copyright (c) 2021 Roczniki Nauk Społecznych
Utwór dostępny jest na licencji Creative Commons Uznanie autorstwa – Użycie niekomercyjne – Bez utworów zależnych 4.0 Międzynarodowe.