Jana Pawła II nauczanie o rodzicielstwie
Jan Mazur

Katolicki Uniwersytet Lubelski Jana Pawła II, Wydział Nauk Społecznych
Słowa kluczowe:
małżeństwo; rodzina; rodzicielstwo; macierzyństwo; ojcostwo; życie ludzkie; osoba; dar; wychowanie; cywilizacja miłości
Abstrakt
In the teachings of John Paul II the category of parenthood, considered from a philosophical, religious, social, moral or cultural perspective, is always integrally connected with such concepts as marriage and family, fatherhood, motherhood and posterity. The meaning of these notions blends with the truth about man which has its roots in the human nature and its deeper meaning in the Christian Revelation. The Pope's teaching in this respect may and should be interpreted in the light of Christian personalism, with special focus on two key notions – that of a person and a gift (the sincere gift of self).
John Paul II devotes much attention to the issue of responsible parenthood, connected with the idea of the civilization of love, and education which can be viewed as continuation of parenthood. Education then is before all else a reciprocal "offering" on the part of both parents. The Pope sees the parental function as a service to life, which leads to revelation of life. This takes place in the family circle, envisioned as the "sanctuary of life". He shares the observation that nowadays these sanctuaries of life not infrequently undergo deep and manifold crisis. Fatherhood and motherhood seem to be in the very centre of this crisis, especially due to profanation of family's sacredness resulting from contraception, abortion, in vitro fertilization, divorces, sexual education devoid of ideals and the like. These sanctuaries of life are at times entirely devastated. Their dilapidation is a process intended by various international centres – numerous feminist, pro-abortion and gay organizations, just to mention some.
Source materials which serve as a basis for presented reflections are first and fore most the following: The apostolic exhortation Familiaris consortio of November 22, 1981; the apostolic Letter Mulieris dignitatem of August 15, 1988; the letter to Families from Pope John Paul II Gratissimam sane of February 2, 1994 and the encyclical Evangelium vitae of March 25, 1995. Attached to the abovementioned documents is also 1983 Charter of the Rights of the Family, aimed especially at the countries, organisations and institutions responsible for the situation of the family in today's world.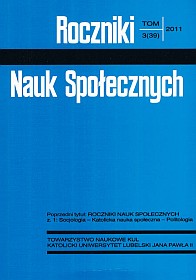 Copyright (c) 2011 Roczniki Nauk Społecznych
Utwór dostępny jest na licencji Creative Commons Uznanie autorstwa – Użycie niekomercyjne – Bez utworów zależnych 4.0 Międzynarodowe.