On the Ethics for the Present Times
Keywords:
concept of ethics, Christian ethics, post-Christian age
Abstract
The article refers to Sebastian Gałecki's book Etyka chrześcijańska dla postchrześcijańskiej epoki [Christian Ethics for the Post-Christian Age], in which the author proposes the concept of such an ethics, based on a Christian foundation. At its core, it is a metaethical work, for which the prototype and inspiration were the taking of ethics by John Henry Newman, Alasdair  MacIntyre and John Finnis. Broadening the research horizon of Gałecki's book, it should be noted that all ethical systems are a challenge for contemporaries, because not only ethics, but every science conceived  classically as theoria has only motivational power for practical life, and in social life it has an impact if it is translated into reliable popularization and effective dissemination of it. The "Christian" adjective merely specifies a particular ethic, determines it in a certain way, but does not modify it. Thus, Christian ethics is a proposal not only for concrete individual and social life, but also for theoretical ethical discussion. Nowadays, in the post-Christian era, argumentative pluralism is of great importance in this discussion. It has its foundation in the fact that the phenomenon of morality is always apprehended in the richness of its aspects, although often some of them are unjustly absolutized. 
References
Dąmbska, Izydora. 1991. "Z semantyki przymiotników". W: Prace z pragmatyki, semantyki i metodologii semiotyki, red. Jerzy Pelc, 1–9. Wrocław: Ossolineum.
Ingarden, Roman. 1972. "O dyskusji owocnej słów kilka". W: Roman Ingarden, Książeczka o człowieku, 185–190. Kraków: Wydawnictwo Literackie.
Kamiński, Stanisław. 1989a. "Metodologiczne typy etyki", W: Stanisław Kamiński. Jak filozofować? Studia z metodologii filozofii klasycznej, 307-319. Lublin: Towarzystwo Naukowe KUL.
Kamiński, Stanisław. 1989b. "O metodologicznej autonomii etyki", W: Stanisław Kamiński. Jak filozofować? Studia z metodologii filozofii klasycznej, 321–330. Lublin: Towarzystwo Naukowe KUL.
Krokos, Jan. 2017. "Racjonalność chrześcijaństwa", W: Filozofia Boga, red. Stanisław Janeczek i Anna Starościc, 643–660. Lublin: Wydawnictwo Katolickiego Uniwersytetu Lubelskiego.
Stępień, Antoni B. 2001. Wstęp do filozofii. Wyd. 4. Lublin: Towarzystwo Naukowe KUL.
Styczeń, Tadeusz. 1980. Etyka niezależna? Lublin: Redakcja Wydawnictw KUL.
Szałata, Kazimierz. 2004. Filozofia chrześcijańska. Na marginesie wielkiej debaty od encykliki Aeterni Patris do Fides et ratio. Warszawa: Fundacja Polska Raoula Follereau.
Wojtyła, Karol. 1994. Osoba i czyn oraz inne studia antropologiczne, red. Tadeusz Styczeń, Wojciech Chudy, Jerzy W. Gałkowski, Adam Rodziński, Andrzej Szostek. Lublin: Towarzystwo Naukowe KUL.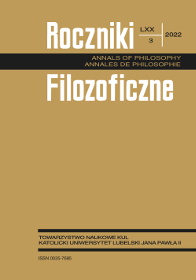 Copyright (c) 2022 Roczniki Filozoficzne
This work is licensed under a Creative Commons Attribution-NonCommercial-NoDerivatives 4.0 International License.