Religion through the Black Monocl
Keywords:
God, religion, idolatry
Abstract
The essay critically examines the main claim of the book Religia jako idolatria [Religion as Idolatry] by Ireneusz Ziemiński, according to which religion is necessarily idolatry. The author argues that the thesis is insufficiently justified and points out several topic that require further discussion.
References
Adams, Robert Merrihew. 2020. "Ludzka natura, chrześcijańskie powołanie i płcie". Tłum. Marcin Iwanicki. Analiza i Egzystencja 52: 5–18
Alston, William P. 2019. "Referring to God". W: Idem. Divine Nature and Human Language: Essays in Philosophical Theology, 103-117. Ithaca, NY: Cornell University Press.
Funkhouser, Eric. 2019. Self-Deception. London and New York: Routledge.
Halbertal, Moshe, i Avishai Margalit. 1998. Idolatry. Tłum. Naomi Goldlum. Cambridge, MA/ London: Harvard University Press.
Hick, John. 1989. An Interpretation of Religion: Human Responses to the Transcendent. Yale: Yale University Press.
Hick, John. 1966. Evil and the God of Love. New York: Harper & Row.
Hryniewicz, Wacław. 2015. Wiara rodzi się w dialogu. Kraków: Wydawnictwo WAM.
Kenny, Anthony. 2019. Bóstwo niewysłowione. Tłum. Sylwia Wilczewska. W: Teizm, ateizm i religia. Najnowsze spory w anglosaskiej filozofii analitycznej, red. Piotr Gutowski i Marcin Iwanicki, 499–510. Lublin: Wydawnictwo KUL.
Nussbaum, Martha. 2004. Hiding from Humanity. Disgust, Shame, and the Law. Princeton: Princeton University Press.
Piłat, Robert. 2013. Aporie samowiedzy. Warszawa: Wydawnictwo IFiS PAN.
Quinn, Philip L., i Kevin Meeker (red.). 1999. The Philosophical Challenge of Religious Diversity. Oxford: Oxford University Press.
Ziemińska, Renata. 2018. Niebinarne i wielowarstwowe pojęcie płci. Próba inkluzji danych o osobach interpłciowych i niebinarnych, Warszawa: Wydawnictwo Naukowe PWN.
Ziemiński, Ireneusz. 2020. Religia jako idolatria. Esej filozoficzny o nieuchronności elementów idolatrycznych w religii. Szczecin: Wydawnictwo Uniwersytetu Szczecińskiego.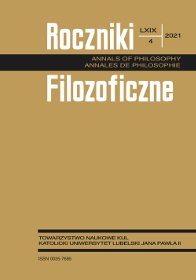 Copyright (c) 2021 Roczniki Filozoficzne
This work is licensed under a Creative Commons Attribution-NonCommercial-NoDerivatives 4.0 International License.