The Tragedy and the Skepticism
Keywords:
tragedy, skepticism, hermeneutics, groundlessness
Abstract
The well-trotted path of interpretation of tragedy refers to a positive conflict of forces or values. In this article, we examine another possibility: to focus on a negative act involved in the tragedy, i.e., avoidance of essential goods and attachments. The avoidance makes the tragic hero live in a contracted world in which he cannot choose a good or save himself. The distinction between the positive and negative aspects of a tragic situation intersects with the distinction between the two layers of tragedy. The first layer involves unfortunate events and the subject's strategies of resistance and self-preservation. The second layer involves new interactions between the subject, and the new reality changed by the effort of resistance. The new interaction leads to tragic guilt and turns the subject into a tragic hero. Between these layers, there is a dynamic exchange of content as it is between the negative and positive aspects of the tragedy. The negative act (rejection of values and attachments) and the affirmative act (the stand taken in an actual conflict of values, rations, claims) are mutually entangled. Any viable interpretation of tragedy should be able to follow both directions of their interaction. It is natural for philosophical hermeneutic to start with the negative act because it shows the immersion of tragedy in the structure of existence. This approach does not, however, remove the need for another hermeneutics, starting with the tragic experience. We tried to show this possibility by referring to the philosophy of Lev Shestov.
References
Adamczewski, Zygmunt. 1969. Tragiczny protest. Warszawa: PIW.
Billings, Joshua Henry. 2011. The theory of tragedy in Germany around 1800: a genealogy of the tragic. PhD dissertation, Merton College.
Cavell, Stanley. 2003. Disowning Knowledge in Seven Plays of Shakespeare. Cambridge: Cambridge University Press.
Critchley, Simon. 2019. Tragedy, the Greeks and Us. New York: Pantheon Books.
Habermas, Jürgen. 2005. Faktyczność i zobowiązanie. Teoria dyskursu wobec zagadnień prawa i demokratycznego państwa prawnego. Przełożyli Adam Romaniuk i Robert Marszałek. Warszawa: Scholar.
Hühn, Lore, i Philipp Schwab. 2011. Die Philosophie des Tragischen: Schopenhauer — Schelling — Nietzsche. Berlin: De Gruyter.
Menke, Christopher. 2005. Die Gegenwart der Tragödie. Versuch über Urteil und Spiel. Frankfurt am Main: Suhrkamp.
Nietzsche, Fryderyk. 1907. O pochodzeniu tragedii z ducha muzyki. Tłum. Leopold Staff. Warszawa: Nakładem Mortkowicza. Również jako Nietzsche, Fryderyk. 2011. Narodziny tragedii albo Grecy i pesymizm. Tłum. Bogdan Baran. Warszawa: Aletheia.
Nussbaum, Martha. 1986. The Fragility of Goodness. Luck and Ethics in Greek Tragedy and Philosophy, Cambridge: Cambridge University Press.
Sartre, Jean-Paul. 1998. Egzystencjalizm jest humanizmem. Przełożyli Krystyna Szeżyńska- Maćkowiak i Janusz Krajewski. Warszawa: Muza.
Sartre, Jean-Paul. 2007. Byt i nicość. Przełożyli Jan Kiełbasa, Piotr Mróz, Rafał Abramciów, Remigiusz Ryziński i Paulina Małochleb. Kraków: Zielona Sowa.
Scheler, Max. 1976. "O zjawisku tragiczności". Tłum. Roman Ingarden. W: Arystoteles, David Hume, Max Scheler. O tragedii i tragiczności. Opracował Władysław Tatarkiewicz. Kraków: Wydawnictwo Literackie.
Scheler, Max. 2003. "O wstydzie i poczuciu wstydu". Tłum.a Marzena Świtalska. W: Wstyd i nagość, red. Marian Grabowski, Toruń: Wydawnictwo UMK.
Szestow, Lew. 1983. Apoteoza niezakorzenienia. Próba myślenia dogmatycznego. Przełożyli Nina Karsov i Szymon Szechter. Warszawa: Kontra.
Szestow, Lew. 1987. Filozofia tragedii. Dostojewski i Nietzsche. Tłum. Cezary Wodziński. Warszawa: Czytelnik.
Szestow, Lew. 1995. Sola fide. Tylko przez wiarę. Tłum. Cezary Wodziński. Warszawa: Wydawnictwo Naukowe PWN.
Szondi, Péter. 2020. Esej o tragiczności. Tłum. Tadeusz Zatorski. Warszawa: Fundacja Augusta Hrabiego Cieszkowskiego.
Unamuno, Miguel. 1984. O poczuciu tragiczności życia wśród ludzi i wśród narodów. Tłum. Henryk Woźniakowski. Kraków/Wrocław: Wydawnictwo Literackie.
Walicki, Andrzej. 2005. Zarys myśli rosyjskiej. Od oświecenia do renesansu religijno- filozoficznego. Kraków: Wydawnictwo Uniwersytetu Jagiellońskiego.
Weil, Simon. 1961. "Zakorzenienie". W: Zakorzenienie i inne fragmenty. Wybór pism. Tłum. Andrzej Wielowieyski. Kraków: Znak.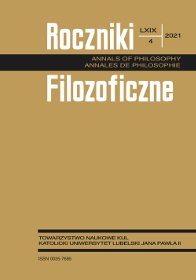 Copyright (c) 2021 Roczniki Filozoficzne
This work is licensed under a Creative Commons Attribution-NonCommercial-NoDerivatives 4.0 International License.