Future Contingents, Ockhamism (Retroactivism) and Thomism (Eternalism)
Keywords:
future contingents; Ockhamism; eternalism; retroactive causation; soft fact; divine foreknowledge
Abstract
In the current paper, I enter into debate with Marcin Tkaczyk and the chosen Anglo-Saxon analytic philosophers of religion to discuss the theological version of the problem of future contingents. I take into consideration some varieties of Ockhamism (retroactivism)—the position denying the temporal necessity (non-determination) of all past events and allowing some form of retroactivity. Strong Ockhamism postulates real retroactive causation, moderate Ockhamism limits it to the meanings of physical and psychical events, and weak Ockhamism replaces the notion of retroactive causation with that of retroactive dependence. I compare different forms of retroactivism with eternalism (of Boethius, St. Anselm of Canterbury, and St. Thomas Aquinas) to show that the latter has significant advantage. At the same time, I point out that eternalism in its presentist and relativist version (proposed by Brian Leftow) avoids the objections put forward against it, and that, within such eternalism, the problem of future contingents does not arise.
References
Craig, William Lane. 2001. Time and Eternity. Exploring God's Relationship to Time. Wheaton: Crossway.
Fischer, John Martin. 1989. Introduction: God and Freedom. In: Fischer, John Martin (ed.), God, Foreknowledge, and Freedom. Stanford: Stanford University Press. 1-56.
Leftow, Brian. 1991. Time and Eternity. Ithaca and London: Cornell University Press.
Murray. Michael J., & Michael Rea. 2008. An Introduction to the Philosophy of Religion. Cambridge: Cambridge University Press.
Piwowarczyk, Marek. 2012. "Kłopoty z pojęciem wiecznej teraźniejszości." Roczniki Filozoficzne 60, no. 4: 297–311.
Plantinga, Alvin. 1989. "On Ockham's Way Out." In God, Foreknowledge, and Freedom, edited by John Martin Fischer. Stanford: Stanford University Press. 178-215.
Stefańczyk, Andrzej P. (ed.). 2018. Jeżeli Bóg istnieje… Wolność człowieka a hipoteza teistyczna. Wybór tekstów. Lublin: TN KUL.
Stump, Eleonore, & Norman Kretzmann. 1981. "Eternity." The Journal of Philosophy 78, no. 8: 429–58.
Tkaczyk, Marcin. 2015. Futura Contingentia. Lublin: Wydawnictwo KUL.
Tkaczyk, Marcin. 2018. "Antinomy of Future Contingent Events." Roczniki Filozoficzne 66, no. 4: 5–38.
Van Inwagen, Peter. 2008. "What Does an Omniscient Being Know about the Future?" In Oxford Studies in Philospohy of Religion. Vol. 1, edited by Jonathan L. Kvanvig. Oxford: Oxford University Press, 216-230.
Wierenga, Edward. 2009. Omniscience. In The Oxford Handbook of Philosophical Theology, edited Thomas P. Flint and Michael C. Rea, 129–44. Oxford: Oxford University Press.
Zagzebski, Linda. 2017. Foreknowledge and Free Will. Stanford Encyclopedia of Philosophy. Accessed 25 December 2018. http://plato.stanford.edu/entries/free-will-foreknowledge.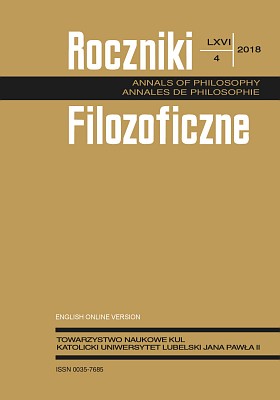 Copyright (c) 2018 Roczniki Filozoficzne
This work is licensed under a Creative Commons Attribution-NonCommercial-NoDerivatives 4.0 International License.