Reinterpretation of Romantic Dramatic Form in Zwolon
Abstract
Zwolon, Norwid's first full drama, is an important text both because of its critique of Romantic drama and in view of the subsequent development of his work. With impressive audacity, the debutant playwright questions his great predecessors' historical and philosophical ideas and makes proposals for crucial changes to the conventions of the genre. In its composition, and particularly its theatrical form, Zwolon retains many features of Romantic drama. It is not yet a "white tragedy" or even the tragedy of contemplation whose perfect embodiment was soon to come in Słodycz. It is an imperfect work, but certainly one that marks a breakthrough and opens the prospect of a new understanding of the functions of the theatre.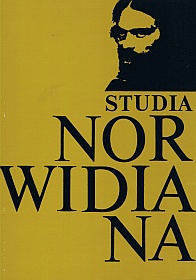 Section
Articles and Sketches
Copyright (c) 1997-1998 Studia Norwidiana
This work is licensed under a Creative Commons Attribution-NonCommercial-NoDerivatives 4.0 International License.