Christ and children. Graphic inedita of Norwid
Edyta Chlebowska

The John Paul II Catholic University of Lublin, Institute for the Study of Cyprian Norwid's Literature
Keywords:
Cyprian Norwid; Christian iconography; Jesus Christ; 19th-century Polish drawing; Bible
Abstract
The aim of the article is to present two previously unknown drawings by Norwid, inspired by the New Testament, which have recently been added to the register of his artistic legacy. The first of the sketches Chrystus i dzieci w świątyni jerozolimskiej [Christ and Children in the Temple of Jerusalem] (1855, lost) illustrates a quotation from the Gospel of Matthew (Mt 21, 15-17). The second composition Chrystus błogosławiący dzieci [Christ Blessing Children] (1857, National Library) refers to an episode mentioned several times in the Gospels (Mt 19, 13-15; Mk 10, 13-16; Lk 18,15-17).
References
XII aukcja książek i grafiki. Warszawa 1 grudnia 2001, [LAMUS, antykwariaty warszawskie, A. i H. Osełko], Warszawa 2001.
Bołoz Antoniewicz J., Katalog Ilustrowany Wystawy Sztuki Polskiej od roku 1764-1886, Lwów 1894.
Chlebowska E., Norwid sztukmistrz nieznany, Lublin 2013.
Chlebowska E., Na szklanych kliszach. Nieznane rysunki Norwida, czyli Album Marceliny Czartoryskiej, "Studia Norwidiana" 32(2014), s. 147-173.
Chlebowska E., "Co byłeś smutny aż do śmierci, a miłujący zawsze" – motywy pasyjne w plastyce Norwida, [w:] Kulturowy wymiar twórczości Norwida, red. J.C. Moryc OFM, R. Zajączkowski, Lublin 2016, s. 133-156.
Gomulicki J.W., Tytułowy rejestr utworów Norwida w kolejności chronologicznej, PWsz XI, 226-233.
Katalog Ilustrowany Pierwszej Wielkiej Wystawy Sztuki Polskiej w Krakowie, Kraków 1887.
Melbechowska-Luty A., Teofil Kwiatkowski 1809-1891, Wrocław–Warszawa–Kraków 1966.
Mycielski J., Sto lat dziejów malarstwa w Polsce 1760-1860. Z okazji Wystawy retrospektywnej we Lwowie 1894 r., Kraków 1897.
Polanowska J., Cyprian Norwid, [w:] Słownik Artystów Polskich i obcych w Polsce działających (zmarłych przed 1966 r.). Malarze. Rzeźbiarze. Graficy (t. VI: N-Pc, red. K. Mikocka-Rachubowa, M. Biernacka, Warszawa 1998, s. 135-150.
Sienkiewicz J., Norwid malarz, [w:] Pamięci Cypriana Norwida, Warszawa 1946, s. 61-77.
Trojanowiczowa Z., Dambek Z., Czarnomorska J., Kalendarz życia i twórczości Cypriana Norwida, t. I: 1821-1860, Poznań 2007.
Wójtowicz M., Wójtowicz P., 47 Aukcja. Antykwariat Wójtowicz, Kraków 2018.
Wyka K., Cyprian Norwid: studia, artykuły, recenzje, Kraków 1989.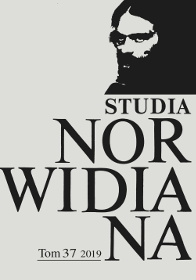 Copyright (c) 2019 Studia Norwidiana
This work is licensed under a Creative Commons Attribution-NonCommercial-NoDerivatives 4.0 International License.