Norwid's dramatic works in new costume
Keywords:
Cyprian Norwid, the twentieth century, drama, poetic drama, tragedy, comedy
Abstract
The article is an academic review of the multi-author monograph Dramaty Cypriana Norwida. Teksty – konteksty – interteksty [Cyprian Norwid's dramatic works: texts, contexts and intertexts] edited by Wiesław Rzońca and Karol Samsel (Warszawa: Wydawnictwo Wydziału Polonistyki, 2019). It surveys and examines studies contained in the volume, placing them in the context of current state of research on Norwid's dramatic works. The review argues that the chief merit of the discussed book consists primarily in presenting new interpretations of Norwid's dramas, which account for fresh contexts and represent a variety of research angles, including philology, textology and scientific editing, studies of theatre, aesthetics, anthropology as well as cultural and comparative studies. The volume also reconsiders the place of Norwid's dramatic works in literary history, most chapters foregrounding the strong relationship this author had with the literature and culture of pre-modernism and modernism. Owing to this, the review also addresses the meaning of the Romantic drama tradition for Norwid's specific artistic position as a dramatist.
References
Braun K., Cypriana Norwida teatr bez teatru, Warszawa 1971.
Makowiecki T., Sławińska I., Za kulisami Tyrteja, w: K. Górski, T. Makowiecki, I. Sławińska, O Norwidzie pięć studiów, Toruń 1949, s. 33-64.
Sławińska I., O komediach Norwida, Lublin 1953.
Sławińska I., Reżyserska ręka Norwida, Kraków 1971.
Sławińska I., Chrześcijańska drama Norwida, "Studia Norwidiana" 3-4: 1985-1986, s. 57-74.
Sławińska I., O języku komedii Norwida, "Studia Norwidiana" 24-25: Lublin 2006-2007, s. 55-76.
Świontek S., Norwidowski teatr świata, Łódź 1983.
Zach-Błońska J., Monolog-różnogłosy. O dramatach współczesnych Cypriana Norwida, Kraków 1993.
Żwirkowska E., Tragedia kultur. Studium o tragedii historycznej C. K. Norwida "Kleopatra i Cezar", Lublin 1991.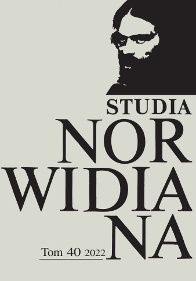 Copyright (c) 2022 Studia Norwidiana
This work is licensed under a Creative Commons Attribution-NonCommercial-NoDerivatives 4.0 International License.