Norwid in the memory of Wielkopolska residents.Maria nee Łubieńska and Franciszek Chłapowski – the former owners of Album berliński [The berlin album] and Modlitewnik dla Włodzimierza Łubieńskiego [A prayer book for Włodzimierz Łubieński]
Keywords:
Cyprian Norwid, Wielkopolska, the Łubieńskis and the Chłapowskis, Przesmycki's correspondence related to Norwid
Abstract
This article follows the history of a few Norwid mementos connected with Wielkopolska, shows the role of Włodzimierz Łubieński's sisters as well as Maria and Franciszek Chłapowskis in saving them and passing to the next generations. It reminds an important speech given by Doctor Chłapowski at the Poznań Society of Friends of Learning in 1904. It presents all (published in fragments to date) Chłapowski's letters to Przesmycki, devoted, among others, to Norwid query at the beginning of the 20th century. It points to Chłapowski's valuable opinion about Norwid's relation to Maria Kalergis.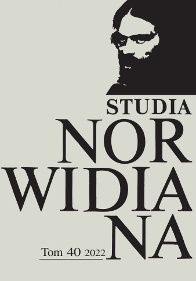 Copyright (c) 2022 Studia Norwidiana
This work is licensed under a Creative Commons Attribution-NonCommercial-NoDerivatives 4.0 International License.