Bearded man in antique-style robes – an unknown drawing by Norwid
Keywords:
Cyprian Norwid, Polish nineteenth-century drawings, male portrait, art auction
Abstract
The article presents a formerly unknown drawing by Norwid, titled "Bearded man in antique-style robes," originally made in Rome in 1847 and recently sold by the Desa-Unicum art auction house. The drawing is representative of the style developed by Norwid in the second half of the 1840s.
References
Chlebowska E., Katalog prac plastycznych Cypriana Norwida, t. I-V, Lublin 2014-2021.
Chlebowska E., "Portret matrony" i "Starzec". Nieznane rysunki Norwida, "Studia Norwi-diana" 36: 2018, s. 179-191.
Chlebowska E., Chrystus i dzieci. Rysunkowe inedita Norwida, "Studia Norwidiana" 37: 2019, s. 145-158.
Sienkiewicz J., Norwid malarz, w: Pamięci Norwida, praca zbior., Warszawa 1946, s. 61-77.
Słownik polskich towarzystw naukowych, t. II. Towarzystwa naukowe i upowszechniające naukę działające w przeszłości na ziemiach polskich, cz. 3, red. nauk. B. Sordylowa, Warszawa 2001.
Szenic S., Cmentarz Powązkowski: zmarli i ich rodziny. 1851-1890, Warszawa 1982.
Trojanowiczowa Z., Dambek Z., przy współudziale J. Czarnomorskiej, Kalendarz życia i twórczości Cypriana Norwida, t. 1, Poznań 2007.
Wójtowicz M., Wójtowicz P., 47 Aukcja. Antykwariat Wójtowicz, Kraków 2018.
Zaleski J.B., Korespondencja, t. 2, wyd. D. Zaleski, Lwów 1902.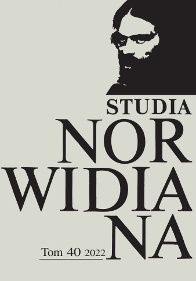 Copyright (c) 2022 Studia Norwidiana
This work is licensed under a Creative Commons Attribution-NonCommercial-NoDerivatives 4.0 International License.