Letter from Cyprian Norwid to Bronisław Zaleski from the Dzików collection of the Tarnów counts
Mirosława Radowska-Lisak

Nicolaus Copernicus University in Toruń, Poland
Keywords:
Cyprian Norwid, letter, autograph, Bronisław Zaleski, the Dzików collection of the Tarnów counts
Abstract
The article examines a hitherto unknown letter by Cyprian Norwid, dated 4 February 1870. The autograph, published together with critical commentary, was considered lost but is now held in the Tarnobrzeg Historical Museum, where it was donated in the autumn of 2021 as part of the remarkable Dzików collection amassed in the the early nineteenth century by Waleria nee Stroynowska and her husband Jan Feliks Tarnowski. A short presentation of the history and content of the Tarnowski collection is followed by a discussion of the context in which the letter was written, in particular Norwid's preparations for a literary meeting organized by Eleonora Czapska in Paris. The countess invited the poet to recite a rhapsody by Homer and three passages from the Odyssey in his own translation.
References
Banowska L., Byt i "światło-cień". O antropologii poetyckiej Cypriana Norwida, Poznań 2019.
Caban W., Z Orenburga do Paryża. Bronisław Zaleski 1820-1880, Kielce 2006.
Chmiel A., Rękopisy Biblioteki hr. Tarnowskich w Dzikowie, Kraków 1908.
Dobek R., Paryż 1871, Poznań 2013.
Ex Bibliotheca Dzikoviensi: powrót po latach. Wystawa starodruków, rękopisów i książek pochodzących ze słynnej Biblioteki Dzikowskiej, Tarnobrzeg–Dzików 2015.
Gajlewicz-Korab K., Francuska prasa drukowana. Narodziny – rozwój – era cyfrowa, Warszawa 2018.
Goszczyński S., Dziennik Sprawy Bożej, t. II, oprac. Z Sudolski przy współudziale W. Kordaczuk i M.M. Matusiak, Warszawa 1984.
Homeri Odyssea, edidit G. Dindorf, editio quinta correctior quam curavit C. Hentze, pars I: Odysseae I-XII, Lipsiae MCMIV.
Janas A., Kolekcja dzikowska hr. Tarnowskich, Tarnobrzeg 2006.
Krysowski O., Deotyma – "dziesiąta Muza" Norwida, "Studia Norwidiana" 38: 2020, s. 5-20.
Listy Zofii Węgierskiej do Cypriana Norwida, oprac. I. Kleszczowa, "Pamiętnik Literacki" 1976, z. 3, s. 189-207.
Łuszczewska J. (Deotyma), Pamiętnik 1834-1897, wstępem i przypisami opatrzył J.W. Gomulicki, Warszawa 1968.
Norwid C., Garść listów z lat 1845-1883, w: tegoż, Słowo i litera w rozwoju dziejowym uważane; Garść listów z lat 1845-1883, z autografów zebrał i wydał S. Pigoń, Warszawa 1936.
Norwid C., Listy do Bronisława Zaleskiego (1866-1868), do druku podał S. Pigoń, Kraków 1937.
Pigoń S., Słowo wstępne, w: C. Norwid, Listy do Bronisława Zaleskiego (1868-1879), do druku podał S. Pigoń, Kraków 1937, s. 5-9.
Trojanowiczowa Z., Z. Dambek, przy współudziale J. Czarnomorskiej, Kalendarz życia i twórczości Cypriana Norwida, t. I: 1821-1860, Poznań 2007.
Trojanowiczowa Z., E. Lijewska, przy współudziale M. Pluty, Kalendarz życia i twórczości Cypriana Norwida, t. II: 1861-1883, Poznań 2007.
Vrtel-Wierczyński S., Dodatkowy spis rękopisów Biblioteki Dzikowskiej, Kraków 1909.
Zych T., Kolekcja dzikowska. Zbiory hrabiów Tarnowskich, Tarnobrzeg 2019.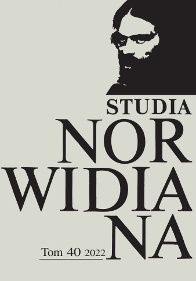 Copyright (c) 2022 Studia Norwidiana
This work is licensed under a Creative Commons Attribution-NonCommercial-NoDerivatives 4.0 International License.