Irony, virtue and "fear of ridicule". (Herbert – Norwid)
Keywords:
irony, virtue, Cyprian Norwid, Zbigniew Herbert
Abstract
The article examines the relationship between irony and virtue in works by Cyprian Norwid and Zbigniew Herbert, arguing that these concepts are crucial for both authors. As such, the article is situated in the area of studies devoted to the presence of the Norwidian tradition in writings by Herbert. His famous poem "Mr. Cogito on Virtue" is a case in point. A close reading of this piece makes it possible to claim that Herbert's considerations of virtue are modelled on Norwid's ironic imagination, with irony revealed as one possible incarnation of virtue. Development of images representing the two concepts bases on personification of allegory, made accessible and unique thanks to the de-conventionalizing gesture of anthropomorphism, which causes the images of both female heroines to turn ironic. An important place in these considerations is occupied by the relationship between virtue and irony in a cultural perspective, which is aptly rendered by the metaphor of sisterhood. As the sister of truth, irony is also the sister of virtue. A form of axiological memory, virtue conditions civilizational progress. The irony of the situation diagnosed by both poets consists in the reversal of meanings and values, as a result of which mockery leads to the rejection of the only guarantee of development, while the accompanying fear of ridicule causes most people to refrain from leading virtuous lives, paradoxically foreclosing growth. The relationship between virtue and irony would thus consist in disclosing the improper character of this situation. At the same time, irony is revealed as the answer to today's lack of virtue brought about by deterioration premised on the rejection of "thinking in terms of values." Accordingly, the greatest import of the relation between irony and virtue seems to consist in the attempt to restore axiological order.
References
Alegoria, red. J. Abramowska, Gdańsk 2003.
Alegoria, red. K. Najdek, K. Tkaczyk, Warszawa 2009.
Barańczak S., Cnota, nadzieja, ironia (Zbigniew Herbert "Pan Cogito o cnocie"), w: Poznawanie Herberta 2, wybór i wstęp A. Franaszek, Kraków 2000, s. 381-398 (pierwodruk: Tablica z Macondo. Osiemnaście prób wytłumaczenia po co i dlaczego się pisze, Londyn 1990).
Barańczak S., Uciekinier z Utopii. O poezji Zbigniewa Herberta, Wrocław 1994 (pierwodruk: Londyn 1984).
Błoński J., Norwid wśród prawnuków, "Twórczość" 1967, nr 5.
Błoński J., Tradycja, ironia i głębsze znaczenie, w: Poznawanie Herberta, wybór i wstęp A. Franaszek, Kraków 1998, s. 49-79.
Bór nici. Wątki klasyczne i romantyczne w twórczości Zbigniewa Herberta, red. M. Mikołajczak, Kraków 2011.
Ciechanowicz J., Etyka czterech umiejętności, New York 2009.
Czapliński P., Ironia mniejsza. Apokryfy mityczne Zbigniewa Herberta, w: Portret z początku wieku. Twórczość Zbigniewa Herberta. Studia, red. W. Ligęza, Lublin 2005, s. 287-304.
Dedecius K., Uprawa filozofii. Zbigniew Herbert w poszukiwaniu tożsamości, tłum. E. Feliksiak, w: Poznawanie Herberta, wybór i wstęp A. Franaszek, s.128-168.
Etyka i charakter, wybrał i przełożył J. Jaśtal, Kraków 2004.
MacIntyre A., Dziedzictwo cnoty. Studium z teorii moralności, przełożył, wstępem i przypisami opatrzył A. Chmielewski, przekład przejrzał J. Hołówka, Warszawa 1996.
Ironia, red. M. Głowiński, Gdańsk 2002.
Kołaczkowski S., Ironia Norwida, w: tegoż, Portrety i zarysy literackie, oprac. S. Pigoń, Warszawa 1968, s.131-166 (pierwodruk: "Droga" 1933, nr 11, s. 131- 166).
Łapiński Z., Norwid, Kraków 1971.
Mackiewicz T., Sokratejskie aspekty ironii Norwida, w: Sokrates Norwida. Kontekst – recepcja – kontynuacja, Warszawa 2009, s. 149-172.
Mikołajczak M., Pod patronatem Norwida, w: tenże, Światy z marzenia. Echa romantyczne w poezji Zbigniewa Herberta, Kraków 2013, s. 91-130.
Mikołajczak M., Wstęp do: Z. Herbert, Wybór poezji, wstęp i opracowanie M. Mikołajczak, Wrocław 2018.
Mrugalski M., "Konieczny bytu cień": "Ironia" Cypriana Norwida, "Ruch Literacki" LXI: 2020, z. 6 (363), s. 603-618.
Nieukerken A., van, Ironiczny konceptyzm. Nowoczesna polska poezja metafizyczna w kontekście anglosaskiego modernizmu, Kraków 1998.
Pańpuch Z., W poszukiwaniu szczęścia. Śladami aretologii Platona i Arystotelesa, Lublin 2015.
Ripa C., Ikonologia, przełożył I. Kania, Kraków 2012.
Ruszar J.M., Słońce republiki. Cywilizacja rzymska w twórczości Zbigniewa Herberta, Kraków 2014.
Seweryn A., "W słońcu bezczelne półśmiechy ironii... "Norwidowe heroironicum" ("Assunta"), w: tenże, Światłocienie i dysonanse. O Norwidzie i tradycji literackiej, Lublin 2013, s. 271-303.
Seweryn D., Alegoria i problemy dyskursu symbolicznego, Lublin 2017.
Współczesna etyka cnót: możliwości i ograniczenia, red. N. Szutta, Warszawa 2010.
Szturc W., Osiem szkiców o ironii, Kraków 1994.
Trybuś K., Stary poeta. Studia o Norwidzie, Poznań 2000.
Wyszomirski S., Pojęcie arete w etyce stoi starszej i średniej, Toruń 1997.
Współczesna etyka cnót: możliwości i ograniczenia, red. N. Szutta, Warszawa 2010.
Ziołowicz A., "Vade-mecum" drogami cnoty. O poetyckiej aretologii Cypriana Norwida, "Studia Norwidiana" 39: 2021, s. 5-30.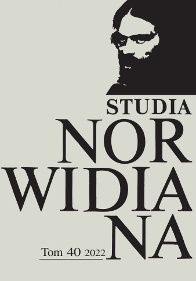 Copyright (c) 2022 Studia Norwidiana
This work is licensed under a Creative Commons Attribution-NonCommercial-NoDerivatives 4.0 International License.