The spaces of Norwid's Assunta. Some interpretative remarks
Keywords:
Cyprian Norwid, Assunta, Juliusz Słowacki, W Szwajcarii [In Switzerland], Socrates, space, Romantic garden, intertextuality
Abstract
This article offers an aspectual analysis of the long poem Assunta by Cyprian Norwid. Its first goal is to examine ways of creating space and contrasts (garden-salon; mine-monastery) as well as to tie the changes and varieties of space with the protagonist's course of thoughts. The second aim is to study these spaces in metaphorical sense, i.e. as an intertextual context, primarily in order to compare Norwid's work with W Szwajcarii [In Switzerland] by Juliusz Słowacki. In a broader perspective it becomes vital, however, to demonstrate how Norwid ingenuously interprets the poem by Słowacki. Incidentally, the article also revisits one question that recurs in many studies, namely that of similarities between Assunta and the Platonic tradition. In this area, the article revises certain claims, demonstrating that the role of Socrates is played not only by the protagonist (in relation to readers) but also by Assunta (in relation to the protagonist).
References
Abriszewska P., Ciało w literaturze, literackie, literatury. Trzy studia o romantyzmie, Toruń 2018.
Arcimowicz W., "Assunta" C. Norwida – poemat autobiograficzno-filozoficzny, Lublin 1993.
Gomulicki J. W., Rzeczywistość i marzenie (glosy do dwóch poematów Norwida), w: C. Norwid, Dwa poematy miłosne, wstęp i oprac. J. W. Gomulicki, Warszawa 1966, s. 27-39.
Kalinowska M., Mowa i milczenie. Romantyczne antynomie samotności, Warszawa 1989.
Krechowiecki A., O Cypryanie Norwidzie. Próba charakterystyki. Przyczynki do obrazu życia i prac poety, na podstawie źródeł rękopiśmiennych, Lwów 1909.
Maciejewski M., Poetyka – gatunek – obraz. W kręgu poezji romantycznej, Wrocław 1977.
Przybylski R., Ogrody romantyków, Kraków 1978.
Siekierski P., Poetyka przestrzeni w "Assuncie" Cypriana Norwida, w: Koncepcje słowa, red. E. Czaplejewicz i E. Kasperski, Warszawa 1991, s. 31-57.
Siewierski H., Architektura słowa i inne szkice o Norwidzie, Kraków 2012.
Słowacki J., Poematy. Nowe wydanie krytyczne, t. 1: Poematy z lat 1828–1839, oprac. J. Brzozowski i Z. Przychodniak, Poznań 2009.
Szmydtowa Z., Poeci i poetyka, Warszawa 1964.
Taylor N., Norwid's feminine ideal: Assunta, high point of Polish Romantic love poetry, w: Cyprian Norwid. Poet – Thinker – Craftsman, ed. B. Maur i G. Gömöri, London 1988.
Trybuś K., Stary poeta. Studia o Norwidzie, Poznań 2000.
Woźniewska-Działak M., Poematy narracyjne Cypriana Norwida, Kraków 2014.
Życzyński H., Studia estetyczno-literackie, Cieszyn 1924.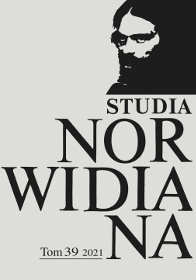 Copyright (c) 2021 Studia Norwidiana
This work is licensed under a Creative Commons Attribution-NonCommercial-NoDerivatives 4.0 International License.