Poets meeting in space and word. On Norwid's poems addressed to Józef Bohdan Zaleski
Keywords:
Cyprian Norwid, Józef Bohdan Zaleski, Teofil Lenartowicz, dialogues between poets, Romantic lyricism, poetic letters
Abstract
This article offers an interpretation of two poems by Cyprian Norwid, which are addressed toJózef Bohdan Zaleski: "Do Józefa Bohdana Zaleskiego w Rzymie 1847-o"[To Józef Bohdan Zalski in Rome, in the year 1847] and "Na przyjazd Teofila Lenartowicza do Fontainbleau" [On the Arrival of Teofil Lenartowicz in Fontainbleau] The latter is a poetic letter that recommends to Lenartowiczthat he should pay a visit to the Zaleski family. These poems allow us a glimpse into the relationship between three nineteenth-century poets. The article elaborates on certain biographical elements but primarily reveals how the Norwid regarded the differences between his own imagination and poetic stance on the one hand and the works of his two friends on the other. Further, it shows how the awareness of this opposition led the poet to recognize aspects of his own place on the map of Polish poetry. Microanalysis of selected themes also facilitates indicating certain features they all share.
References
Adamiec M., Oni i Norwid, Wrocław 1991.
Fert J. F., Norwid – poeta dialogu, Wrocław 1982.
Goszczyński S., Nowa epoka poezji polskiej, "Powszechny Pamiętnik Nauk i Umiejętności" Kraków 1835 (artykuł ogłoszony anonimowo).
Halkiewicz-Sojak G., Liryczność a poznawcze aspiracje podmiotu. Przyczynek do romantycznego kontekstu zagadnienia, w: Liryczność, red. B. Kuczera-Chachulska, E. Skalińska, Warszawa 2013, s. 61-72.
Krysowski O., Motywy bizantyjsko-chrześcijańskie w poezji Józefa Bohdana Zaleskiego, w: "Szkoła ukraińska" w romantyzmie polskim, red. St. Makowski, U. Makowska, M. Nesteruk, Warszawa 2012, s. 81-94,
Lenartowicz T., Umarli żywi, atg Bibl. PA U w Krakowie, sygn. 2029.
Lenartowicz T., Wspomnienie o Bohdanie Zaleskim, "Kłosy" 1886, nr 1091.
Nowicka E., Cyprian Norwid i Józef Bohdan Zaleski, czyli to, co wspólne między pokoleniami, w: O Norwidzie komparatystycznie, red. M. Siwiec, Kraków 2019, s. 179-206.
Przesmycki Z. (Miriam), Wstęp, w: Reszta wierszy do dziś odszukanych, Warszawa 1933.
Pszczołowska L., O wierszu "słowika ukraińskiego", w: "Szkoła ukraińska" w romantyzmie polskim, w: "Szkoła ukraińska" w romantyzmie polskim, red. St. Makowski, U. Makowska, M. Nesteruk, Warszawa 2012, s. 35-52.
Sawicki S., Wstęp w: C. Norwid, Promethidion, Kraków 1997, "Biblioteka Polska".
Szmydtowa Z., Norwid i Lenartowicz, "Przegląd Humanistyczny" 1973, nr 1.
Szulakiewicz M., Czas i to, co ludzkie. Szkice z chronozofii kultury, Toruń 2011.
Zaleski J. B., Wybór poezyj, oprac. B. Stelmaszczyk-Świątek, Wrocław-Łódź 1985, BN I, nr 30.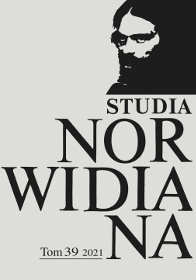 Copyright (c) 2021 Studia Norwidiana
This work is licensed under a Creative Commons Attribution-NonCommercial-NoDerivatives 4.0 International License.