Norwid in contemporary poetry. Forms of presence
Keywords:
Norwid, intertextuality, contemporary poetry
Abstract
The article attempts to establish the character of references to Norwid in texts by poets representative of Polish modernity, accounting for functions of intertextual allusions, initially in the area of collective consciousness. As it turns out, during the interwar period and the Second World War works by the Romantic master were referenced at all stages of developing a distinct literary identity. Poets would not just read Norwid's texts, but in fact regard themselves in the mirror of his works. However, after 1956 Norwid's presence in literary life was rooted in the needs of literary scholars rather than in actual intertextual references. This tendency also manifests in studies of works by individual authors. It does happen – especially when we speak of implicit traces of Norwid in contemporary poetry – that the plane of relations between authors is not addressed by interpreters. Sometimes, dialogue as a research category disappears from their view, while the body of Norwid's works is treated merely as a context, becoming a kind of mirror meant to display more fully a certain theme or characteristic of somebody's writing. However, the most important forms of Norwid's functioning in contemporary times are ones that facilitate meetings(successfulor not), as demonstrated by the fascination with Norwid's poetry recognizable in texts by authors such as Mieczysław Jastrun, Julian Przyboś and Tadeusz Różewicz.
References
Barańczak S., Norwid: obecność nieobecnego, w: tegoż, Tablice z Macondo. Osiemnaście prób wytłumaczenia po co i dlaczego się pisze, Kraków 2018, s. 119-134.
Błoński J., Norwid wśród prawnuków, "Twórczość" 1967, z. 5, s. 67-94.
Dakowicz P., "Lecz ty spomnisz wnuku…" Recepcja Norwida w latach 1939-1956. Rzecz o ludziach, książkach i historii, Warszawa 2011.
Inglot M., Mieczysława Jastruna lwowskie spotkania z Norwidem. (1939-1941), "Studia Norwidiana" 7: 1989, s. 119-126.
Jarzyna A., "Pójście za Norwidem"(w polskiej poezji współczesnej), Lublin 2013.
Lisowski K., Z Tadeuszem Różewiczem nie tylko o Norwidzie, "Odra" nr 4/5, 2000, s. 7-16.
Mikołajczak M., Czy piękno ocala? O jednym z wątków dialogu Herbert – Norwid, w: taż, Światy z marzenia. Echa romantyczne w poezji Zbigniewa Herberta, Kraków 2011,
s. 93-110.
Nieukerken A. van, Ironiczny konceptyzm. Nowoczesna polska poezja metafizyczna w kontekście anglosaskiego modernizmu, Kraków 1998.
Nieukerken A. van, Perspektywiczność sacrum – szkice o Norwidowskim romantyzmie, Warszawa 2007.
Rygielska M., Przyboś czyta Norwida, Katowice 2012.
Sawicka K., Norwid Tadeusza Różewicza – deklaracje, w: Polska literatura współczesna wobec romantyzmu, red. M. Łukaszuk, D. Seweryn, Lublin 2007, s. 129-141.
Sawicka K., Różewicz–Norwid, w: Dialogi romantyczne, red. E. Kasperski, T. Mackiewicz, Warszawa 2008, s. 391-409.
Skrendo A., Stanisław Barańczak: widma poezji, "Teksty Drugie" 2014, nr 2, s. 284-306.
Wójcik L., Wpływ Norwida na poezję Kwadrygi. (Fragmenty), "Przegląd Humanistyczny" 1967 nr 4, s. 59-84.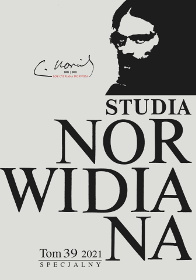 Copyright (c) 2021 Studia Norwidiana
This work is licensed under a Creative Commons Attribution-NonCommercial-NoDerivatives 4.0 International License.