Norwid in studies by Rolf Fieguth
Keywords:
Cyprian Norwid, Polish Romanticism, European poetry, poetic cycles, comparative studies
Abstract
This article aims discusses Rolf Fieguth's studies of works by Norwid, focusing primarily on the German Slavist's interpretations of the cycle Vade-mecum and the long poem Quidam. The first work reconstructed here, along with its assumptions and conclusions, is Fieguth's 1985 study on "poetry in a critical phase"and the second is the 2005 essay on the comparative contexts of Norwid's famous cycle (the latter was published in Polish in 2011). A lot of room is devoted in this section to Fieguth's analysis of distortions introduced by Norwid at various levels of the poem's organization. These remarks are complemented with an account of Fieguth's comparatist conceptof "cultural confrontation," which goes beyond dualistic accounts of literary creativity, revealing the invariably broad, European context of meetings between poets and texts, facilitated by the process of national cultures permeating each other. The second part of the article is devoted to Fieguth's 2014 book Zaproszenie do "Quidama". Portret poematu Cypriana Norwida [An invitation to Quidam. A portrait of Cyprian Norwid's long poem]. Reflections on this publication concern not only its detailed findings about Norwid's long poem but also the critic's methodological assumptions, which have helped him to update the long-standing genre in the history of literature, namely the "author and his particular work" type of monograph. Among the issues addressed in the book, the article discusses, in particular, the difficulties accompanying interpretations of Quidamand the question of Norwid's classicism. The third part of the article draws attention to Fieguth's remarks onNorwid made in recent years (2017, 2018, 2020). The article thus summarizes Rolf Fieguth's thirty years of research on the most important poetic achievements of the Polish poet.
References
Bieńkowska E., Norwid-Nietzsche. Dwie twarze losu, Warszawa 1975.
Fieguth R., Poezja w fazie krytycznej. Cykl wierszy Cypriana Norwida "Vade-mecum", "Studia Norwidiana" 3-4: 1985-1986, s. 13-55.
Fieguth R., Verzweigungen. Zyklische und assoziattive Kompositionsformen bei Adam Mickiewicz, Freiborg Schweiz 1998.
Fieguth R., Poezja w fazie krytycznej i inne studia z literatury polskiej, Izabelin 2000,
ss. 327.
Fieguth R., Rozpierzchłe gałązki. Cykliczne i skojarzeniowe formy w twórczości Adama Mickiewicza, przeł. M. Zieliński, Warszawa 2002.
Fieguth R., Karykaturalność, erotyzm, idealizacja. Kilka uwag o wybranych szkicach i rysunkach Norwida (w luźnym nawiązaniu do "Quidama"), w: Norwid – artysta. W 125. Rocznicę śmierci poety, red. K. Trybuś, W. Ratajczak, Z. Dambek, Poznań 2008, s. 11-26.
Fieguth R., Klasycyzm. Estetyka – Doktryna literacka – Antropologia. red. K. Meller, Warszawa 2009, s. 345-374, 563-584.
Fieguth R., "Vade-mecum" Cypriana Norwida w kontekście Wiktora Hugo i Charles'a Baudelaire'a, w: Gombrowicz z niemiecką gębą i inne studia komparatystyczne, Poznań 2011, s. 246-261.
Fieguth R., Zaproszenie do "Quidama". Portret poematu Cypriana Norwida, Kraków 2014.
Fieguth R., "Sobie wielki". O pięciu zbiorach lirycznych Franciszka Dionizego Kniaźnina, Warszawa 2018.
Fieguth R., Pomysły o recytacji wiersza "Sfinks [II], w: Cyprian Norwid. Osobność, oprac. E Kącka, Kraków 2018, s. 115-120.
Fieguth R., Chrześcijaństwo dla wszystkich. Parę słów nt. "Quidama" C. Norwida, "Studia Norwidiana" 2019, nr 37, s. 281-284.
Fieguth R., Rzeki, przestrzenie, rytm. Marginalia o poezji Czesława Miłosza, Poznań 2020.
Głowiński M., Norwida wiersze-przypowieści, w: Cyprian Norwid. W 150-lecie urodzin poety. Materiały z konferencji naukowej. 23-24 września 1971, red. M. Żmigrodzka, Warszawa 1973, s. 72-109.
Głowiński M., Gorzkie kalambury. O "Purytanizmie" Cypriana Norwida, "Studia Norwidiana" 2: 1984, s. 63-74.
Jakobson R., Czułość" Cypriana Norwida, w: For Wiktor Weintraub. Essays in Polish Literature, Language and History. Presented on the Occasion of His 65th Birthday, The Hague 1975, s. 227-237.
Łapiński Z., Norwid, wyd. II, Kraków 1984.
Stefanowska Z., Norwid – pisarz wieku kupieckiego i przemysłowego, w: Literatura, komparatystyka, folklor. Księga pamiątkowa poświęcona Julianowi Krzyżanowskiemu, red. M. Bokszczanin, S. Frybes i E. Jankowski, Warszawa 1968, s. 423-460.
Trojanowicz Z., Rzecz o młodości Norwida, Poznań 1968.
Trybuś K., Pamięć romantyzmu. Studia nie tylko z przeszłości, Poznań 2013.
Wyka K., Pokolenia literackie, przedmowa H. Markiewicz, Kraków 1977, s. 249-306.
Vincenz A., Norwid po niemiecku, "Studia Norwidiana" 2: 1984, s. 84-90.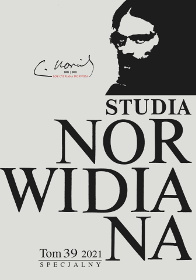 Copyright (c) 2021 Studia Norwidiana
This work is licensed under a Creative Commons Attribution-NonCommercial-NoDerivatives 4.0 International License.