"Neither a leafnor a single toothin it." Norwid beyond romanticism
Keywords:
Romanticism, Zofia Stefanowska, Zofia Trojanowiczowa, historiosophy, lyrical subject, protagonist, irony, deed
Abstract
The article polemicizes with those findings in the history of literature that situate Norwid's output within the Romantic movement, especially conclusions drawn by Zofia Stefanowska, Zofia Trojanowiczowaand Edward Kasperski, but also certain ideas developed by Rev. Antoni Dunajski, who argues that the poet's historiosophic reflection is rooted in Hegelian dialectics (or German philosophy in general), seasoned with the Christian tradition and readings from the Bible. The authoremphasizes certain properties of Norwid's poetics: an original concept of the protagonist, a personalist concept of history, irony, and the development of both the lyrical subject and the virtual lyrical audience, which all decidedly confirm that the poet functioned outside the said literary and ideological movement. These claims are also informed by the idea that even though Norwid operated beyond the Romantic convention, he would not embrace some other, existing trend (e.g. positivism or Parnassianism), or already represent one from the future (e.g. modernism). Instead, as a pre-modernist and precursor of contemporary lyricism, or a symbolist, he foreshadowed future literary movements. Accordingly, the article claims that Norwid's work constitutes a separate and original phenomenon, at least in Polish literature.
References
Dunajski A. ks., Chrześcijańska interpretacja dziejów w pismach Cypriana Norwida, Lublin 1985.
Hamerski W., Ironie romantyczne, Warszawa 2018.
Kasperski E., Dyskursy romantyków. Norwid i inni, Warszawa 2003.
Kawyn S., Cyganeria Warszawska. Z dziejów obyczajowości literackiej, Warszawa 1938.
Łapiński Z., Norwid, Kraków 1971.
Maciejewski J., Cyprian Norwid, Warszawa 1992.
Makowiecki T., Młodzieńcze poglądy Norwida na sztukę, Lwów 1927. Osobne odbicie z "Pamiętnika Literackiego" R. XXIV, 1927.
Rzońca W., Norwid. Poeta pisma. Próba dekonstrukcji dzieła, Warszawa 1995.
Rzońca W., Norwid a romantyzm polski, Warszawa 2005.
Rzońca W., Premodernizm Norwida – na tle symbolizmu literackiego drugiej połowy XIX wieku, Warszawa 2013.
Siwiec M., Ze stygmatem romantyzmu. O Norwidzie i Baudelairze z perspektywy nowoczesności, "Teksty Drugie" 2014, z. 4, s. 195-214.
Skiba D., Cyganeria artystyczna i cyganowanie w romantycznej Warszawie, Wrocław 2016.
Śniedziewski P., Mallarmé – Norwid. Milczenie i poetycki modernizm we Francji oraz w Polsce, Poznań 2008.
Stefanowska Z., Strona romantyków. Studia o Norwidzie, Lublin 1993.
Szturc W., Ironia romantyczna. Pojęcie, granice i poetyka, Warszawa 1992.
Szymanowski W., Niewiarowski A., Wspomnienia o Cyganerii Warszawskiej, zebrał i oprac. J. W. Gomulicki, Warszawa 1964.
Trojanowicz Z., Rzecz o młodości Norwida, Poznań 1968, s. 108-109.
Trojanowiczowa Z., Ostatni spór romantyczny Cyprian Norwid – Julian Klaczko, Warszawa 1981.
Trojanowiczowa Z., Romantyzm od poetyki do polityki. Interpretacje i materiały, wybór i red. A. Artwińska, J. Borowczyk, P. Śniedziewski, Kraków 2010.
Trybuś T., Stary poeta. Studia o Norwidzie, Poznań 2000.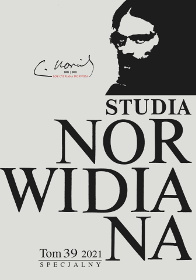 Copyright (c) 2021 Studia Norwidiana
This work is licensed under a Creative Commons Attribution-NonCommercial-NoDerivatives 4.0 International License.