Norwid's drama of "social transfigurations"
Keywords:
Cyprian Norwid, aesthetics of drama, social drama, cultural performance, rites of passage
Abstract
The article discusses Norwid's concept of drama and theatre; notably, he assumes their close relationship with social life and its historical changes. Basing on analyses of meta-dramatic and meta-theatrical statements made by the poet, contained primarily in the essays "Widowiska w ogóle uważane" and "Białe kwiaty" [Performances considered in general; White flowers], in passages from lectures on Słowacki (O Juliuszu Słowackim), and in the introduction to Pierścień Wielkiej-Damy [The Ring of a Great Lady], it is possible to formulate the thesis that Norwid intentionally developed a vision of drama based on the idea of "social transfigurations."What is more, the character of his dramatic works enables one to interpret his particular theatrical pieces in the light of anthropological and sociological categories of social drama and cultural performance. After all, most of Norwid's dramatic works depict situations of social change in terms of rites of passage and theatricalized social practices, e.g. social ceremonies or ritualized interactions. As a result, Norwidian drama becomes an artistic representation of forces shaping collective life, a lens facilitating their understanding in the spirit of social anthropology, and an important factor in the formation of man.
References
Antropologia widowisk. Zagadnienia i wybór tekstów, oprac. A. Chałupnik, W. Dudzik, M. Kanabrodzki, L. Kolankiewicz, wstęp i red. L. Kolankiewicz, Warszawa 2005.
Babcock B. A.,, Reflexivity: Definitions and Discriminations, w: Signs about Signs. The Semiotics of Self-References, ed. B. A. Babcock, New York 1980.
Buchowski M., Magia i rytuał, Warszawa 1993.
Dunajski A., Chrześcijańska interpretacja dziejów w pismach Cypriana Norwida, Lublin 1985.
Feliksiak E., Norwid i Vico, "Przegląd Humanistyczny" 1968, nr 3.
Gennep van A., Rites de passage, Paris 1909.
Goffmann E., Rytuał interakcyjny, przeł. A. Szulżycka, Warszawa 2006.
Hałas E., Interakcjonizm symboliczny. Społeczny kontekst znaczeń, Warszawa 2006.
Maisonneuve J., Rytuały dawne i współczesne, przeł. M. Mroczek, Gdańsk 1995.
Myerhoff B., Camino L. A., Turner V., Rites of Passage, w: Encyclopaedia of Religion, ed. M. Eliade, New York 1987, vol. 12.
Rytuał, dramat, święto, spektakl. Wstęp do teorii widowiska kulturowego, red. J. J. MacAloon, przeł. K. Przyłuska-Urbanowicz, Warszawa 2009.
Sawicki S., Norwida walka z formą, Warszawa 1986.
Schechner R. Collective Reflexivity: Restoration of Behavior, w: A Crack in the Mirror: Reflexive Perspectives in Anthropology, eds. B. Myerhoff, J. Ruby, Philadelphia 1982.
Sławińska I., O komediach Norwida, Lublin 1953.
Sławińska I., Reżyserska ręka Norwida, Kraków 1971.
Sławińska I., "Chrześcijańska drama" Norwida, "Studia Norwidiana" 3-4: 1985-1986.
Świontek S., Norwidowski teatr świata, Łódź 1985.
Turner V., Schism and Continuity in an African Society, Manchester 1957.
Turner V., The Ritual Process: Sturcture and Anti-Structure, Chicago 1969.
Turner V., Teatr w codzienności, codzienność w teatrze, przeł. P. Skurowski, "Dialog" 1988, nr 9.
Turner V., Gry społeczne, pola i metafory. Symboliczne działanie w społeczeństwie, przeł. W. Usakiewicz, Kraków 2005.
Zach-Błońska J., Monolog różnogłosy. O dramatach współczesnych Cypriana Norwida, Kraków 1993.
Ziołowicz A., Norwidowski dramat wieloperspektywiczny, w: taż, Dramat i romantyczne "Ja". Studium podmiotowości w dramaturgii polskiej doby romantyzmu, Kraków 2002.
Ziołowicz A., Między starożytnością a współczesnością. Formy tragedii w twórczości Cypriana Norwida, w:Długie trwanie. Różne oblicza klasycyzmu, red. R. Dąbrowski i B. Dopart, Kraków 2011.
Żwirkowska E., Tragedia kultur. Studium o tragedii historycznej C. K. Norwida "Kleopatra i Cezar", Lublin 1991.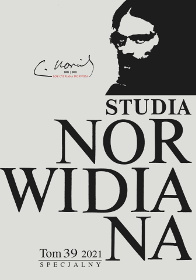 Copyright (c) 2021 Studia Norwidiana
This work is licensed under a Creative Commons Attribution-NonCommercial-NoDerivatives 4.0 International License.