The world of lofty feelings and good manners, or Norwid's law of inversion
Eliza Kącka

University of Warsaw
Keywords:
cleanliness, anthropology, nineteenth-century Paris, irony, inversion
Abstract
This article regards Norwid's Tajemnica Lorda Singelworth in the context of his anthropology as well as historical and cultural background. The author's notion of "cleanliness," inspired in some measure by the Gospels, is connected to the circumstances of both Norwid himself and the main character of his puzzling novella. This reading revolves around the image of a balloon flight during which the Lord – as it is argued, following hints already present in studies of Norwid – discards a piece of paper with "physiological content." This scene is placed in the context of other literary balloon flights and the eccentricity of Baudelaire's friend Philoxène Boyer. Finally, the article discusses Norwid's law of inversion, which can be applied in the case of Singelworth.
References
Adamiec M., 'Tajemnica lorda Singelworth' albo metafizyka balonu, "Studia Norwidiana" 3-4 (1985-1986), pp. 201-215.
Benjamin W., The Paris of the Second Empire in Baudelaire, [in:] Idem, The Writer of Modern Life: Essays on Charles Baudelaire, Cambridge, Mass. 2006
Cullerre A., U wrót obłędu. Studyum psychologiczne, trans. L. Wolberg, Warszawa 1891.
David S.-Ch., Philoxène Boyer: Un sale ami de Baudelaire, Paris 1987.
Gomulicki J.W., O 'Trylogii włoskiej' Norwida. Geneza – kształtowanie – wymowa, [in:] C. Norwid, Trylogia włoska, ed. J.W. Gomulicki, Warszawa 1979, pp. 5-25.
Prus B., Pisma wszystkie. Humoreski, nowele, opowiadania, vol. 2, ed. T. Żabski, Warszawa-Lublin 2015.
Rzepczyński S., O umyśle 'zgadobliwym'. 'Tajemnica lorda Singelworth', "Studia Norwidiana" 14 (1996), pp. 105-112.
Samsel K., Norwid – Conrad. Epika w perspektywie modernizmu, Warszawa 2015
Skalińska E., Jeszcze o 'Tajemnicy lorda Singelworth'. Między ironią a autoironią, "Colloquia Litteraria" 2017, no. 1, pp. 107-122.
Taine H.A., History of English Literature, New York 1899, Section V "The Puritans." Online: http://www.gutenberg.org/files/61382/61382-h/61382-h.htm.
Trybuś K., Stary poeta. Studia o Norwidzie, Poznań 2000.
Wilde O., Lord Arthur Savile's Crime and Other Stories, London 1913. Online: https://www.gutenberg.org/files/773/773-h/773-h.htm (accessed 19 January 2021).
Zieliński J., Stearynowe utrapienie, [in:] "Klucze od Echa" – Osobność – Wiersze Cypriana Norwida, ed. E. Kącka, Kraków 2018, pp. 93-102.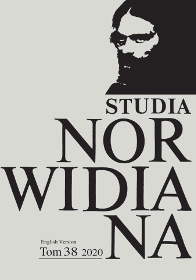 Copyright (c) 2020 Studia Norwidiana
This work is licensed under a Creative Commons Attribution-NonCommercial-NoDerivatives 4.0 International License.