On the Multiplied Spectacle in Tyrtej–Za Kulisami by Cyprian Norwid
Mirella Kryś

Adam Mickiewicz University in Poznań
Keywords:
Cyprian Norwid, Tyrtej, Za kulisami, theatricality, theatrum mundi
Abstract
The main object of analysis in this article is the doubly understood category of theatricality, which organizes Norwid's reflections in the dramatic diptych titled Tyrtej–Za kulisami, and to demonstrate the influence of Norwid's experiences with theatre on the development of the category of theatricality in these dramatic works. The poet recorded his remarks about theatre in critical writings and art. This article proposes two ways of reading his plays. The first assumes that the described events are realistically motivated because they take place in the space of nineteenth-century theatres in Warsaw and other European countries. The second involves interpreting the metaphorical and parabolic senses in the diptych, with special emphasis on passages from Dedykacja.
References
Borowiec A., "Album Orbis" Cypriana Norwida jako księga sztukmistrza, Gdańsk 2016.
Braun K., Cypriana Norwida teatr bez teatru, Warszawa 1971.
Braun K., Kulturowy wymiar 'Za kulisami' Cypriana Norwida, "Tematy i Konteksty" 2013, no. 3, pp. 302-313.
Halkiewicz-Sojak G., Liryczne ramy dramatycznego dyptyku Norwida, [in:] Liryka Cypriana Norwida, ed. P. Chlebowski, Toruń, Lublin 2003, pp. 257-276.
Horzyca W., O inscenizacji 'Za kulisami' Norwida, "Teatr" 1947, no. 4-5, pp. 65-76.
Kowalczykowa A., Warszawa romantyczna, Warszawa 1987.
Kracauer S., Jacques Offenbach and the Paris of His Time, New York 2002.
Miłkowski T., Teatr Norwida, Toruń 2013.
Nowicka E., Zapisane w operze. Studia z historii i estetyki opery, Poznań 2012.
Piotrowska M., Narodowe widowiska kulturowe. Uroczystości żałobne i rocznicowe w Wielkopolsce (1815-1914), Poznań 2011.
Poeta i sztukmistrz. O twórczości poetyckiej i artystycznej Norwida, ed. P. Chlebowski, Lublin 2007.
Sławińska I., 'Chrześcijańska drama' Norwida, "Studia Norwidiana" 3-4 (1985-1986), pp. 57-74.
Sławińska I., Reżyserska ręka Norwida, Kraków 1971.
Szczerba W., Koncepcja wiecznego powrotu w myśli wczesnochrześcijańskiej, Wrocław 2001. Szwankowski E., Teatry Warszawy w latach 1765-1918, Warszawa 1979.
Świontek S., Teatr w świecie i świat w teatrze (Z problemów dramaturgii C. Norwida: 'Aktor' – 'Za kulisami'), "Polonistyka" 1983, no. 8, pp. 712-721.
Świontek S., Teatr w teatrze, [in:] Idem, Norwidowski teatr świata, Łódź 1983, pp. 89-128.
Trybuś K., Benjamin komentatorem Norwida, [in:] Wokół "Pasaży" Waltera Benjamina, eds. P. Śniedziewski, K. Trybuś, M. Wilczyński, Poznań 2009, pp. 195-204.
Trybuś K., Stary poeta. Studia o Norwidzie, Poznań 2000.
Wanicka A., Dramat i komedia Teatrów Warszawskich 1868-1880, Kraków 2011.
Wypych-Gawrońska A., Warszawski teatr operowy w latach 1832-1880, Częstochowa 2005.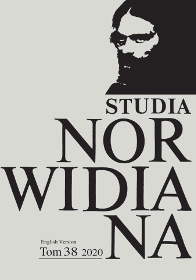 Copyright (c) 2020 Studia Norwidiana
This work is licensed under a Creative Commons Attribution-NonCommercial-NoDerivatives 4.0 International License.