The Encounter of Two Giants: Norwid and Dostojewski
Jan Zieliński

Cardinal Stefan Wyszyński University in Warsaw, Poland
Keywords:
comparative research, Dostoevsky, a literary parallel, Nineteenth Century, Norwid
Abstract
A personal review of the book version of Ewangelina Skalińska's doctoral thesis devoted to Norwid and Dostoevsky. It discusses the threefold composition of the dissertation and underlines the dashing comparative analysis of Norwid's Assunta and Dostoevsky's A Gentle Creature. The open character of the research project is stressed. The reviewer discusses in detail another parallel, between two London texts: Norwid's The Larva and Dostoevsky's Winter Notes on Summer Impressions. In conclusion there is a passage on the inspiring role of Skalińska's book, which fills an important gap and draws a horizon for the future comparative research.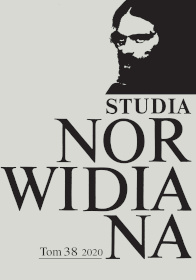 Copyright (c) 2020 Studia Norwidiana
This work is licensed under a Creative Commons Attribution-NonCommercial-NoDerivatives 4.0 International License.