On the scientific gift for Professor Stefan Sawicki, with general remarks on modern Norwid Studies
Marek Stanisz

University of Rzeszów
Keywords:
Cyprian Norwid; Stefan Sawicki; Norwid Studies; jubilee
Abstract
The article presents a review of the collective monograph Strona Norwida. Studia I szkice ofiarowane Profesorowi Stefanowi Sawickiemu (edited by P. Chlebowski, W. Toruń, E. Żwirkowska and E. Chlebowska, Lublin 2008). The discussion of the contents of all 28 scientific articles published in the volume is the starting point for sketching a panorama of contemporary Norwid Studies and determining the contribution of Professor Stefan Sawicki to the development of this discipline.
References
Czapliński P., Efekt bierności. Literatura w czasie normalnym, Kraków 2004.
Inglot M., Badania nad życiem i twórczością Cypriana Norwida w latach 1990-2002, [w:] tenże. Drogami pielgrzyma. Studia i artykuły o twórczości "czwartego wieszcza", Lublin 2007.
Kalendarz życia i twórczości Cypriana Norwida, t. I-III, oprac. Z. Trojanowiczowa, Z. Dambek,E. Lijewska oraz I. Grzeszczak. Poznań 2007.
Norwid C., Dzieła wszystkie, t. III, IV, V, VI, VII, X, XI, red. S. Sawicki, Lublin 2007-2016.
Norwid C., Pisma wszystkie, t. I-XI, zebrał, tekst ustalił, wstępem i uwagami krytycznymi opatrzył J.W. Gomulicki. Warszawa 1971-1975.
Puzynina J., Korpysz T., Internetowy słownik języka Cypriana Norwida, http://slownikjezykanorwida.uw.edu.pl/.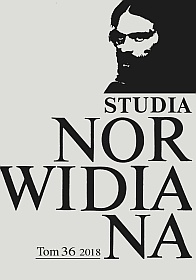 Copyright (c) 2018 Studia Norwidiana
This work is licensed under a Creative Commons Attribution-NonCommercial-NoDerivatives 4.0 International License.