Towards Norwid's hermeneutics
Michał Kuziak

University of Warsaw
Keywords:
hermeneutics; Romanticism; literary criticism and history; conceptions of culture
Abstract
This article is a review of the book by P. Abriszewska Literacka hermeneutyka Cypriana Norwida [Cyprian Norwid's literary hermeneutics]. The book discusses the previous research of the issue, taken in the context of the Romantic, the 19th-century and the 20-th century hermeneutic thought. The review focuses on the reconstruction of the diversified and multilateral hermeneutic approaches to Norwid's works proposed by the author of the publication. These hermeneutic approaches are linked with culture, literature, history and – to the smallest extent – with nature; all of them being part of the poet's oeuvre.
References
Abriszewska P., Literacka hermeneutyka Cypriana Norwida, Lublin 2011.
Gadamer H.G., Prawda i metoda. Zarys hermeneutyki filozoficznej, przeł. B. Baran, Kraków 1993.
Gadamer H.G., Semantyka i hermeneutyka, przeł. K. Michalski, [w:] Rozum, słowo, dzieje, wybrał, opracował i wstępem poprzedził K. Michalski, Warszawa 2000.
Kuziak M., Norwid – zmagania z podmiotowością (wokół epifanii poetyckich autora "Vade-mecum"), "Pamiętnik Literacki" 106(2015), z. 4.
Kuziak M., Mickiewiczowska hermeneutyka kultury (wokół wykładów lozańskich). Tradycja w myśli Mickiewicza, [w:] tenże, Wielka całość. Dyskursy kulturowe Mickiewicza, Słupsk 2006.
Ricoeur P., Wyjaśnianie i rozumienie, przeł. K. Rosner, [w:] Język, tekst, interpretacja, wybór pism, wybrała i wstępem poprzedziła K. Rosner, Warszawa 1989.
Stefanowska Z., Norwidowski romantyzm, [w:] taż, Strona romantyków. Studia o Norwidzie, Lublin 1993.
Trybuś K., Stary poeta. Studia o Norwidzie, Poznań 2000.
Van Nieukerken A., Perspektywiczność sacrum. Szkice o Norwidowskim romantyzmie, Warszawa 2007.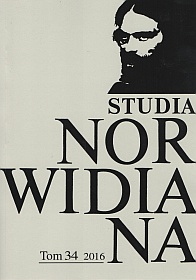 Copyright (c) 2016 Studia Norwidiana
This work is licensed under a Creative Commons Attribution-NonCommercial-NoDerivatives 4.0 International License.