Ludwik Norwid and the mystery of his burial place
Kinga Borzęcka

University of Warsaw
Keywords:
Ludwik Norwid; Warszawskie Towarzystwo Dobroczynności [Warsaw Charity Society]; burial place; Powązki Cemetery
Abstract
The aim of this article is to reconstruct the circumstances of the funeral of Ludwik Norwid, which are still shrouded in mystery. The author gradually narrows down the area of her search to finally observe that – in a way parallel to the fate of Ludwik's brother Cyprian – it is not possible to precisely locate the grave. Irrespective of the above, the grave is almost certain to be located in the Powązki Cemetery in Warsaw, which could play the role of a symbolic place of remembrance, also in its current function of the family tomb.
References
Archiwum Akt Dawnych w Warszawie. Informator o zasobie archiwalnym, red. D. Lewandowska, Warszawa 2008.
Gomulicki J.W., Zabłąkany pielgrzym. Rzecz o Ludwiku Norwidzie, "Przegląd Współczesny" 1935, nr 64.
Kośla M., Pomoc społeczna w zaborze rosyjskim w świetle akt Rady Głównej Opiekuńczej Szpitali 1832-1870 r.
Księga zgonów parafii św. Jana w Warszawie (rok 1881), akt zgonu: 532.
"Kurier Warszawski" 1881, nr 290.
Niewiarowski A., Nekrolog Ludwika Norwida, "Kłosy" 1(1882), nr 870.
Norwid C., Pisma wszystkie; t. I-XI, zebrał, tekst ustalił, wstępem i uwagami krytycznymi opatrzył J.W. Gomulicki, Warszawa 1971-1976.
Półkozic [Niewiarowski A.], Ludwik Norwid (wspomnienie pośmiertne), "Echo" 1882, nr 12.
Sudolski Z., Norwid. Opowieść biograficzna, Warszawa 2003.
Szenic S., Cmentarz Powązkowski: zmarli i ich rodziny, t. I: 1790-1850, Warszawa 1979.
Trojanowiczowa Z., Lijewska E. przy współudziale Pluty M., Kalendarz życia i twórczości Cypriana Norwida, t. II: 1861-1883, Poznań 2007.
Trojanowiczowa Z., Ludwik Norwid, [w:] Literatura krajowa w okresie romantyzmu 1831 1863, t. II, red. M. Janion, M. Dernałowicz, M. Maciejewski, Kraków 1988.
Wójcicki K.W., Cmentarz Powązkowski pod Warszawą, t. I, Warszawa 1855.
http://miastospoleczne.pl/web/organization?id=10 (data dostępu: 5.05.2014)
http://www.parafiawincentegoapaulo.pl/cmen.html (data dostępu: 05.05.2014)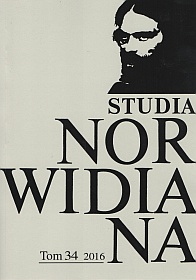 Copyright (c) 2016 Studia Norwidiana
This work is licensed under a Creative Commons Attribution-NonCommercial-NoDerivatives 4.0 International License.