Blade kłosy na odłogu… [Pale ears on the fallow…] – an unknown poem by Norwid
Edyta Chlebowska

The John Paul II Catholic University of Lublin, Institute for the Study of Cyprian Norwid's Literature

Piotr Chlebowski

The John Paul II Catholic University of Lublin, Institute for the Study of Cyprian Norwid's Literature
Keywords:
song; Norwid; Kazimierz Lubomirski; Ostend; Taida Małachowska; Blade kłosy [Pale ears…]; songbook; notation; score; piano; Lucjan Siemieński
Abstract
This article is a republication of an unknown poem by Norwid, entitled Blade kłosy na odłogu [Pale ears on the fallow...]. The text is taken from the sheet music edition of two songs published by Kazimierz Lubomirski (the latter song is authored by Lucjan Siemieński), developed for voice and piano. Most probably, the score was published in the spring of 1851. The article attempts to unveil the circumstances of how the work came into being and it settles the problem of its unclear authorship and roots. Moreover, it shows a story of a musical piece that has for long remained unknown, and which was well-recognized in the realm of household musical culture at the turn of the 20th century.
References
Chlebowska E., Cyprian Norwid. Katalog prac plastycznych, t. I: Prace w albumach 1, Lublin 2014.
Gallus J., Najnowszy śpiewnik polski: wybór najulubieńszych pieśni i śpiewów religijnych, narodowych, ludowych itd. używanych w towarzystwach polskich, Bytom [ok. 1914].
Kiślak E., Siemieński Lucjan, [w:] Polski słownik biograficzny, t. XXXVII/1, z. 152, Warszawa–Kraków 1996.
[N.N.], Ród Lubomirskich w muzyce, "Echo Muzyczne, Teatralne i Artystyczne" 1899, nr 13, s. 146.
Przybylski T., Lubomirski Kazimierz, [w:] Polski słownik biograficzny, t. XVIII, Wrocław 1973, s. 30.
Przybyszewski S., Moi współcześni. Wśród obcych, Warszawa 1926.
Sowiński A., Słownik muzyków polskich, dawnych i nowoczesnych kompozytorów, wirtuozów, śpiewaków, instrumencistów, lutnistów, organistów, poetów lirycznych i miłośników sztuki muzycznej, zawierający krótki rys historii muzyki w Polsce, opisanie obrazów cudownych i dawnych instrumentów, z muzyką i portretem autora, Paryż 1874.
Sudolski Z., Cyprian Norwid w świetle listów Jana i Amelii Skrzyneckich, "Miesięcznik Literacki" 1968, nr 10/12.
Trojanowiczowa Z., Dambek Z., przy współudziale J. Czarnomorskiej, Kalendarz życia i twórczości Cypriana Norwida, t. I: 1821-1860, Poznań 2007.
Wolszlegier A., Kurowski L., Nowy śpiewnik polski z melodiami przeznaczony w pierwszym rzędzie dla towarzystw ludowych w Prusach Zachodnich, Pieniążkowo [b.r.w.].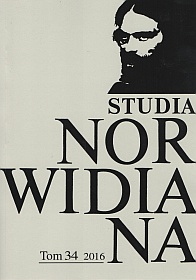 Copyright (c) 2016 Studia Norwidiana
This work is licensed under a Creative Commons Attribution-NonCommercial-NoDerivatives 4.0 International License.