Conditions for the reinstatement of the statute of limitations in civil court proceedings and in general administrative proceedings (comparative remarks)
Edyta Gapska

The John Paul II Catholic University of Lublin, Faculty of Law, Canon Law and Administration

Maciej P. Gapski

Off-Campus Faculty of Legal and Economic Science of the John Paul II Catholic University of Lublin at Tomaszów Lubelski
Keywords:
civil procedural law; general administrative proceedings; procedural formalism; reinstatement of the time limit
Abstract
All proceedings before the organs of public administration and the administration of justice are characterized by formalism, which is a necessary condition of respecting the principle of equality of both interested parties. One of the most significant aspects of this formalism is – both in civil procedure and in general administrative proceedings – undertaking procedural actions with an adherence to a time limit. The importance of fulfilling this condition is strictly connected with the problem of effectiveness of procedural actions performed by the participants of litigation. The comparison of time limitations and its consequences in civil procedure and general administrative procedure reveals a relative similarity in the sphere of prerequisites to reinstate the time limit, with the major differences focusing on the manner of proceeding and deciding upon the subject matter of the motion. Both procedures provide a relatively suspensory character of the motion for reinstatement of the time limit and the possibility of discontinuing the proceedings or execution of the decision or judgment by the authority or the court. Despite many similarities, there is a significant difference concerning the issue of appealability of the decision referring to the reinstatement of the time limit.
References
Adamiak B., Borkowski J. : Kodeks postępowania administracyjnego. Komentarz, Warszawa 2004.
Iserzon E., Starościak J.: Kodeks postępowania administracyjnego. Komentarz, teksty, wzory, formularze, Warszawa 1970.
Jaśkowska M., Wróbel A.: Kodeks postępowania administracyjnego. Komentarz, Kraków 2005.
Kędziora R.: Ogólne postępowanie administracyjne, Warszawa 2008.
Kmiecik Z. R.: Strona jako podmiot oświadczeń procesowych w postępowaniu administracyjnym, Warszawa 2008.
Knysiak-Molczyk H.: Uchybienie i przywrócenie terminu w postępowaniu sądowoadministracyjnym, "Przegląd Sądowy" 2006, No. 7-8, pp. 122-139.
Kodeks postępowania cywilnego. Komentarz. Część pierwsza. Postępowanie rozpoznawcze, vol. 1, ed. T. Ereciński, Warszawa 2009, p. 474.
Waligórski M.: Polskie prawo procesowe cywilne. Funkcja i struktura, Warszawa 1947.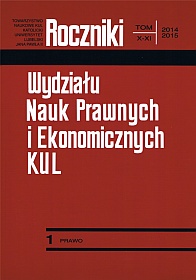 Copyright (c) 2015 Roczniki Wydziału Nauk Prawnych i Ekonomicznych KUL
This work is licensed under a Creative Commons Attribution-NonCommercial-NoDerivatives 4.0 International License.