Saints Catherine and Andrew in the Religious Folk Tradition of the Tomaszów Region
Józef Nowak

The John Paul II Catholic University of Lublin, Faculty of Theology
Keywords:
ethnographic field studies; St. Catherine; St. Andrew; folk rituals and beliefs; predictions; folk religiosity; cult of the dead
Abstract
The source basis of the present article is provided by the results of ethnographic field studies conducted by the author in 64 localities near Tomaszów Lubelski. In totally, in the period of six years (1995-2001), the author collected information from 314 respondents, with whom he carried out 346 interviews. In addition, 14 collective interviews were made, in which 8 to 14 persons participated. The area of Tomaszów marks the beginning of the point of contact between the Polish and Ukrainian cultures, which is why 30 Ukrainian respondents took part. The subject of the present paper is the description and analysis of former and contemporary folk rituals and beliefs connected with the liturgical reminiscences of saints Catherine and Andrew made in the light of phenomenological and comparative methods.
Folk religiousness is simpler than academic theology and Christian liturgy; it permeates the needs of man, filling time and space, objects and actions. In folk rituals, certain magical and religious elements appeared and are interwoven, which comprise the cultural signs of life according to the pagan calendar. The saints, who take care of certain areas of life, strongly influence the imagination, giving a feeling of closeness and strengthening the faith of folk people. Beliefs concerning saints appear in private prayers, songs, proverbs, statements and legends. The cult of saints influences family life and peer groups, being the main themes at social meetings. Associated with the dates of Saints Catherine and Andrew are organized marital ceremonies, which create an atmosphere of joy and the country village's social ties. The specific games of the men and women were to reveal future passions such as: priority in entering into marriage relationships and finding one's spouse, even determining a certain person. Older people also associated St. Andrew's feast day with activities concerning weather forecasting.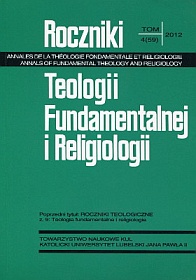 Copyright (c) 2012 Roczniki Teologii Fundamentalnej i Religiologii
This work is licensed under a Creative Commons Attribution-NonCommercial-NoDerivatives 4.0 International License.