The Cult of Saint Barbara in Polish Folk Religion
Zdzisław Kupisiński

The John Paul II Catholic University of Lublin, Faculty of Theology
Keywords:
ethnographic field investigations; the cult of St. Barbara; folk religiosity; folk tradition; proverbs; patroness of good death
Abstract
The purpose of this article is to show the importance of Saint Barbara in Polish traditions and folk religion. The study is based mainly on the author's ethnographic field research conducted in the regions of Opoczno and Radom in 1990-1993, and in 1995-2005, as well as on research about St. Barbara's cult featured in master's theses and doctoral dissertations written at the Institute of Fundamental Theology of John Paul II Catholic University of Lublin. The article consists of three sections. First, the figure of St. Barbara is introduced with focus on her biography. In the second part, the role of this Saintly Woman in Polish folk religion is illuminated, and in the third section, the significance of the St. Barbara cult is presented through customs and folk proverbs.
In Poland, the cult of St. Barbara has a very long and lively tradition, and can be traced to the Wawel Cathedral in Krakow. The first mention of this Saint in liturgy is found in the "Gertrude Psalter", dating from 11th Century and belonging to a daughter of the early Polish King Mieszko II. St. Barbara is the patroness of a good death, virtuous brides and family life, and is the protectoress from fires, thunderstorms, and sickness of the plague, as well as cemetery chapels. She is venerated primarily by people who are exposed in their occupations to unexpected sudden death, such as miners, steel workers, sailors, fishermen, soldiers, masons, prisoners, bricklayers, gunners, carpenters, blacksmiths, and manufacturers of fireworks. Employees of these professions honor St. Barbara in their own specific ways.
Placing the Feast of St. Barbara on December 4 has contributed to the fact that around her, as the Patroness of this day, there have arisen a lot of proverbs predicting the weather for Christmas. Some of these sayings have survived to modern times, and testify to the vitality of the cult of St. Barbara and her popularity in a folk religiosity in Poland.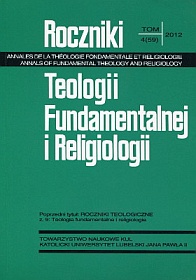 Copyright (c) 2012 Roczniki Teologii Fundamentalnej i Religiologii
This work is licensed under a Creative Commons Attribution-NonCommercial-NoDerivatives 4.0 International License.