Divinitation Rituals of the Small Secondary Funeral among the Konkomba of Northern Ghana
Henryk Zimoń

The John Paul II Catholic University of Lublin, Faculty of Theology
Keywords:
bad death; diviner; divination; small secondary funeral; village of Kukuln; Konkomba people; West Africa
Abstract
This article describes and interprets two divination rituals of the so-called small secondary funeral in the village of Kutuln. These relate to a bad death, which occurs when people die prematurely or inappropriately. Africans feel fear toward the dead who in life were bad people and those who died a bad death. The concept of a bad death for Africans presents their approach to life, the time of death and the moral evaluation of dead people, as a premature or unusual death is not accidental. A bad death explains the course of human life and has an impact on the burial of the deceased and his fate in the afterlife. Africans believe that those who die a bad death, do not leave the sphere of human life and do not pass into the land of their ancestors. People who die a bad death are deprived of a normal burial and extensive secondary funeral, and the living will never respect them and called upon them through prayers and sacrifices. Small secondary funerals among the Konkomba are limited to the divining rites, which last one day.
The course of divination is similar in small and large secondary funerals. The initial phase of divination using 10 cowrie shells is decisive and important. During the long speech, Bingo, the main diviner or the master reveals and explains the causes of the bad death and propose preventive measures designed to remove ritual impurity and the propitiation of supernatural beings. The cause of death of the woman Mafimbi were quarrels and disagreements with her husband in the village of Bwana, caused by her lover Nbale. She would have happily married him, but her father did not agree to it. Her lover Nbale persuaded Mafimbi not to eat or drink in the home of her husband. The second case concerns the death of a nameless girl who died on the day of her birth because of quarreling parents: her father Bindifrim and her mother Ndodebu living in the village of Jinjinabi. Noteworthy is the attitude of dependence on help, during the divining rites, of the god Uwumbor, spirits of the Earth, clan protective spirits, gnome bush spirits, twin spirits, ancestor spirits, and especially spirits of dead diviners. Help from these supernatural beings is essential during the rites of divination, in order to properly explain the circumstances and causes of death of deceased persons. Divination by using three sticks as complementary only confirms the previously given causes of death. It should be noted that during these divining rites, small and large secondary funerals also have a didactic and moralistic dimension, because they teach people respect for tradition, preservation of social norms and moral order in the life of the individual and community.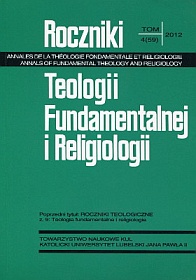 Copyright (c) 2012 Roczniki Teologii Fundamentalnej i Religiologii
This work is licensed under a Creative Commons Attribution-NonCommercial-NoDerivatives 4.0 International License.