Emotional reactions to dynamic morphed facial expressions: A new method to induce emotional contagion
Monika Wróbel

University of Lodz, Institute of Psychology

Michał Olszanowski

SWPS University of Social Sciences and Humanities in Warsaw
Keywords:
emotional contagion; basic emotions; facial expressions of emotion; emotion-eliciting stimuli; morphing
Abstract
In the current study, we tested the utility of a new method developed to study emotional contagion (i.e., the transfer of emotional states between people). Inspired by studies on emotional mimicry – a process that has been postulated as one of the main mechanisms leading to emotional contagion, we created a set of videos showing morphed facial expressions of happiness, sadness, and anger. Following exposure to each video, participants rated their emotions. Our findings demonstrated that the videos evoked congruent emotions in viewers, thereby supporting the notion that dynamic morphed facial expressions may be effective "emotionally contagious" stimuli. Additionally, in line with the previous studies and classic theories of emotional contagion, the displays of anger evoked a complementary reaction of fear.
References
Achaibou, A., Pourtois, P., Schwartz, S., & Vuilleumier, P. (2008). Simultaneous recording of EEG and facial muscle reactions during spontaneous emotional mimicry. Neuropsychologia, 46, 1104-1113.
Barsade, S. G. (2002). The ripple effect: Emotional contagion and its influence on group behavior. Administrative Science Quarterly, 47, 644-675.
Doherty, R. W. (1997). The Emotional Contagion Scale: A measure of individual differences. Journal of Nonverbal Behavior, 21, 131-154.
Doherty, R. W., Orimoto, L., Singelis, T. M., Hatfield, E., & Hebb, J. (1995). Emotional contagion: Gender and occupational differences. Psychology of Women Quarterly, 19, 355-371.
Faul, F., Erdfelder, E., Lang, A.-G., & Buchner, A. (2007). G*Power 3: A flexible statistical power analysis program for the social, behavioral, and biomedical sciences. Behavior Research Methods, 39, 175-191.
Fischer, A., & Hess, U. (2017). Mimicking emotions. Current Opinion in Psychology, 17, 151-155.
Hatfield, E., Cacioppo, J. T., & Rapson, L. R. (1994). Emotional contagion. Cambridge: Cambridge University Press.
Hess, U., & Blairy, S. (2001). Facial mimicry and emotional contagion to dynamic emotional facial expressions and their influence on decoding accuracy. International Journal of Psychophysiology, 40, 129-141.
Houser, M. L., & Waldbuesser, C. (2017). Emotional contagion in the classroom: The impact of teacher satisfaction and confirmation on perceptions of student nonverbal classroom behavior. College Teaching, 65, 1-8.
Hsee, Ch. K., Hatfield, E., Carlson, J. G., & Chemtob, C. (1990). The effect of power on susceptibility to emotional contagion. Cognition and Emotion, 4, 327-340.
Izard, C. E., Dougherty, F. E., Bloxom, B. M., & Kotsch, N. E. (1974). The Differential Emotions Scale: A method of measuring the subjective experience of discrete emotions. Unpublished manuscript, Vanderbilt University, Nashville, TN.
Johnson, S. K. (2008). I second that emotion: Effects of emotional contagion and affect at work on leader and follower outcomes. The Leadership Quarterly, 19, 1-19.
Królewiak, K., & Wróbel, M. (2017). Czy uśmiech ładnych ludzi jest bardziej zaraźliwy? Atrakcyjność fizyczna jako moderator zarażania afektywnego [Are smiles of attractive people more contagious? Physical attractiveness moderates affect contagion]. Psychologia Społeczna, 12, 397-404.
Kuhlen, A. K., & Brennan, S. E. (2013). Language in dialogue: When confederates might be hazardous to your data. Psychonomic Bulletin & Review, 20, 54-72.
Lobbestael, J., Arntz, A., & Wiers, R. W. (2008). How to push someone's buttons: A comparison of four anger-induction methods. Cognition and Emotion, 22, 353-373.
Lundqvist, L.-O., & Dimberg, U. (1995). Facial expressions are contagious. Journal of Psychophysiology, 9, 203-211.
Olszanowski, M., Pochwatko, G., Kuklinski, K., Scibor-Rylski, M., Lewinski, P., & Ohme, R. (2015). Warsaw Set of Emotional Facial Expression Pictures: A validation study of facial display photographs. Frontiers in Psychology, 5, 1516. DOI: 10.3389/fpsyg.2014.01516.
Papousek, I., Schulter G., & Lang, B. (2009). Effects of emotionally contagious films on changes in hemisphere-specific cognitive performance. Emotion, 51, 1018-1022.
Parkinson, B. (2011). Interpersonal emotion transfer: Contagion and social appraisal. Social and Personality Psychology Compass, 5, 428-439.
Sachisthal, M. S. M., Sauter, D. A., & Fischer, A. H. (2016). Mimicry of ingroup and outgroup emotional expressions. Comprehensive Results in Social Psychology, 1, 86-105.
Siedlecka, E., & Denson, T. F. (2018). Experimental methods for inducing basic emotions: A qualitative review. Emotion Review, 11(1), 87-97. DOI: 10.1177/1754073917749016
Stöckli, S., Schulte-Mecklenbeck, M., Borer, S., & Samson, A. C. (2018). Facial expression analysis with AFFDEX and FACET: A validation study. Behavior Research Methods, 50, 1446-1460.
Van der Schalk, J., Fischer, A., Doosje, B., Wigboldus, D., Hawk, S., Rotteveel, M., & Hess, U. (2011). Convergent and divergent responses to emotional displays of ingroup and outgroup. Emotion, 11, 286-298.
Wingenbach, T. S. H., Brosnan, M., Pfaltz, M. C., Plichta, M. M., & Ashwin, C. (2018). Incongruence between observers' and observed facial muscle activation reduces recognition of emotional facial expressions from video stimuli. Frontiers in Psychology, 9, 864. DOI: 10.3389/fpsyg.2018.00864
Wróbel, M. (2016). Zarażanie afektywne. O procesie transferu emocji i nastroju między ludźmi [Affect contagion: On the transfer of emotions and moods between people]. Warszawa, Poland: Wydawnictwo Naukowe PWN.
Wróbel, M., Imbir, K. (2019). Broadening the perspective on emotional contagion and emotional mimicry: The correction hypothesis. Perspectives on Psychological Science, 14, 437-451.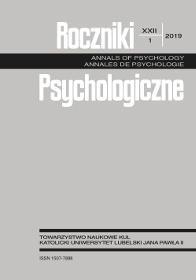 Copyright (c) 2019 Roczniki Psychologiczne
This work is licensed under a Creative Commons Attribution-NonCommercial-NoDerivatives 4.0 International License.