The Rights of the Catholic Church in Relation to Marriages of Non- Catholics
Wiesław Kraiński

Nicolaus Copernicus University in Toruń
Keywords:
baptized non-Catholics; unbaptized non-Catholics; Eastern Churches; jurisdiction over non-Catholics
Abstract
This article is an attempt to bring closer the subject of jurisdiction of the Catholic Church over a marriage of non-Catholics. It includes principal definitions, ideas and concepts related to the topic. The paper consists of two leading motives. The first one is focused around theory and definitions, the second one, around legal procedure and practice. At the beginning, the Author presents main definitions on the topic that are necessary to further exploration. This includes inter alia category of unbaptized and baptized non-Catholics.        The next part of the paper circles around the question – on what grounds does the Catholic Church exercise the jurisdiction over baptized and unbaptized non-Catholics? The Author presents justification for such Church's power through describing its roots in natural law and the sanctity of marriage, referring to history of doctrine and several ecclesiastical documents. The last part of the paper deals with theory and procedures, which are included in Code of Canon Law 1983 and Instruction Dignitas connubii. It also refers to decisions of the Apostolic Signature and gives specific grounds on which authority of the Catholic Church over non-Catholics may be exercised: proving unmarried status, legal interest, status familiae et personarum (legitimacy of offspring, kinship, affinity, alimony, heirdom).
References
Bączkowicz Franciszek, Prawo kanoniczne, t. I, Wydawnictwo Diecezjalne św. Krzyża, Opole 1957.
Díaz Moreno José Maria, Matrimonios no canónicos y competencia de los Tribunales Eclesiásticos, Dykinson, Madrid 2007.
Janes Rhidian, The canon law of the Roman Catolic Church and the Church of England, T&T Clark, Edinburgh 2000.
Kowal Janusz, Dignitas connubii e competenza della Chiesa, "Periodica" 94 (2005), s. 476-488.
Kraiński Wiesław, Bonum Coniugum i jego wykluczenie w doktrynie i orzecznictwie Roty Rzymskiej, "Ius Matrimoniale" 16 (22) 2011, s. 99-116.
Kraiński Wiesław, Prawo trybunałów do rozstrzygania nieważności małżeństw niekatolików art. 2-4 Dignitas Connubii, Bernardinum, Pelplin 2013.
Llobell Joaquin, La jurisdicción de la Iglesia sobre los matrimonios no obligados a la forma canónica, "Ius Canonicum" 37 (1997), nr 73, s. 33-71.
Montini Giovanni, Matrimonio tra acattolici di fronte al giudice ecclesiastico. Alcune note sull'art. 3 §2 dell'istruzione Dignitas Connubii, "Periodica de re canonica" 99 (2010), s. 627-679.
Navarrete Urbano, Competentia Ecclesiae in Matrimonium Baptizatorum eiusque limites, "Periodica de re morali canonica liturgica" 67 (1978), s. 95-115.
Ochoa Javier, Leges ecclesiae post Codicem iuris cannonici editiae, vol. 1, Commentarium pro Religiosis, 1966, n. 1220.
Ortiz Miguel Angel, Note circa la giurisdizione della Chiesa sul matrimonio degli acatolici, "Ius ecclesiae" 6 (1994), s. 369-374.
Rozkrut Tomasz (red.), Komentarz do instrukcji procesowej Dignitas Connubii, Wydawnictwo Diecezjalne, Sandomierz 2007.
Św. Augustyn, Wartości małżeństwa, tłum. Wacław Eborowicz, WSD Pelplin, Pelplin 1980.
Wenz Wiesław, Apostazja i formalny akt wystąpienia z Kościoła. Zasady postępowania w świetle norm kościelnych, "Prawo i Kościół" 2(2010), s. 20-43.
Zuanazzi Ilaria, Il diritto di introdurre l'azione o di partecipare al giudizio di nullita del matrimonio (art. 92-94; art. 95-100), [w:] Piero Antonio Bonnet, Carlo Gullo (red.), Il giudizio di nullita matrimoniale dopo l'istruzione "Dignitas Connubii", Parte Seconda, (Studi Giuridici LXXVI), Libreria Editrice Vaticana, Vaticano 2007, s. 249-295.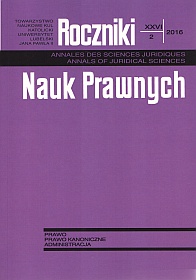 Section
Articles: Canon Law
Copyright (c) 2016 Roczniki Nauk Prawnych
This work is licensed under a Creative Commons Attribution-NonCommercial-NoDerivatives 4.0 International License.