Influence of Subreption on the Validity of Rescripts Issued by Dicasteries of the Roman Curia (Can. 64 of the Code)
Keywords:
subreption, rescript, dicastery of the Roman Curia
Abstract
In the presented study, the Author made a detailed analysis of can. 64 CCL, which codifies the issue of the influence of subreption on the validity of rescripts issued by dicasteries of the Roman Curia (can. 64 CCL). He showed, firstly, that the principle contained in the canon is an implementation of the interpretative principle contained in can. 63 § 1 CCL concerning the influence of subreption on the validity of a rescript; secondly, can. 64 CCL has the character of an disqualifying law (can. 10 CCL).
He has also proved that, even though can. 64 CCL has the character of an disqualifying law, the regulation it lays down is not unconditional; exceptions to it, on the one hand, are connected with the special positions of the Pope and the Apostolic Penitentiary in the canonical legal order, while on the other hand, the impossibility to inform may be due to the nature of things (ex natura rei). According to the Author, this could happen when the faithful repeatedly brought a request for a rescript to the same dicastery, and also when, having brought the request in the meantime, he referred the same request to another dicastery.
References
Bunge Alejandro: Las claves del Código. El libro I del Código de Derecho Canonico, Buenos Aires: San Benito 2006.
Canosa Javier: Subrepción, [w:] Diccionario general de Derecho canónico, t. 7, red. Javier Otaduy, Antonio Viana, Joaquín Sedano, Pamplona: ARANZADI 2012, s. 424-425.
Chiappetta Luigi: ll Codice di Diritto Canonico. Commento giuridico – pastorale, t. 1, Roma: Edizioni Dehoniane 1996.
De Paolis Valesio: D'Auria Andrea, Le norme generali di Diritto Canonico. Commento al Codice di Diritto Canonico, Roma: Urbaniana University Press 2008.
Dzierżon Ginter: Subrepcja, [w:] Leksykon obywatela, red. Sławomir Serafin, Bogumił Szmulik, Warszawa: Wydawnictwo C.H. Beck 2008, s. 988.
Dzierżon Ginter: Subrepcja, [w:] Wielka Encyklopedia Prawa, t. 2, red. Grzegorz Leszczyński, Warszawa: Fundacja "Ubi societas, ibi ius" 2014, s. 227.
Dzierżon Ginter: Zakresy sprawowania władzy rządzenia w kanonicznym porządku prawnym (kan. 130 Kodeksu Prawa Kanonicznego z 1983 roku), "Roczniki Nauk Prawnych" 2018, nr 3, s. 181-191.
Dzierżon Ginter: Założenia generalne dotyczące aktu przełożonego kościelnego wymagającego współudziału organów partycypacji (kan. 127 § 1 KPK), "Studia Redemptorystowskie" 2013, s. 371-381.
García Martín Julio: Le norme generali del Codex Iuris Canonici, Roma: EDIURCLA 1999.
Heinzmann Marcelo Cristian: Le leggi irritanti et inhabilitanti. Natura e applicazione secondo il CIC, Roma: Editrice Pontificia Università Gregoriana 2002.
Jagodziński Henryk M.: Historia i komptencje Penitencjarii Apostolskiej, "Kieleckie Studia Teologiczne" 2013, s. 129-153.
Jimènez Urresti Theodoro: Comento al can. 64 CIC, [w:] Código de Derecho Canónico. Edición bilingüe comentada, red. Lamberto De Echeveria, Madrid: Biblioteca de Autores Cristianos 1985, s. 64.
Michiels Gommarus: Normae generales iuris canonici, t. 2, Lublin: Drukarnia Państwowa w Lublinie 1929.
Sobański Remigiusz: Komentarz do kan. 64 KPK, [w:] J. Krukowski, R. Sobański, Komentarz do Kodeksu prawa kanonicznego, t. 1, Poznań: PALLOTTINUM 2003, s. 127-129.
Socha Heribert: Allgemeine Normen, [w:] Münsterischer Kommentar zum Codex Iuris Canonici, t. 1, red. Klaus Lüdicke, Essen: Ludgerus Verlag 1985, ad 64.
Urrutia Francisus: De normis generalibus. Adnotationes in Codicem: Liber I, Romae: Pontificia Universitas Gregoriana 1983.
Van Hove Adolf: Commentarium Lovaniense, vol. 1, t. 4, Mecheline–Romae: Summi Pontificis, SS. Congregationum Rituum et de Propaganda Fidei necnon Archiep. Mechelin. Typhographus 1936.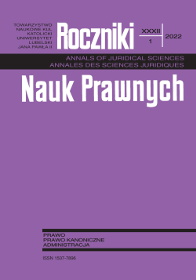 Section
Articles: Canon Law
Copyright (c) 2022 Roczniki Nauk Prawnych
This work is licensed under a Creative Commons Attribution-NonCommercial-NoDerivatives 4.0 International License.