Transport-Related Exclusion in Local Communities and Systemic Ways to Overcome It
Keywords:
mobility, exclusion, transportation, local community, dispersed economy
Abstract
This article aims to identify the instances of transport-related social exclusion in local communities and seeks solutions, to include domestic and foreign concepts. It claims that the inhabitants of local communities have the right to inclusion and explores the ways of achieving it. It considers the need to provide a local regulatory body created by local governments to oversee and coordinate the efforts to grant an equal access to transportation. It also explores the already existing regulatory features at the local level. It is recommended to free the entrepreneurial potential so far restricted by lawmakers convinced that the only solution is to support traditional forms of transportation based established routs and timetables as well as public aid. Without prejudice to such organizational forms, more individualized approached is needed, achievable within the new model of dispersed economy, more commonly known as shared economy. The transportation policy also needs to be more open to new technologies applicable in transportation such as drones and autonomous vehicles.
References
Barglind Katie: Innovation, Technology, and Transportation: the Need to Address On-Demand, Ridesharing and Modernize Outdated Taxi Regulation in the US, "Wisconsin International Law Journal" 2016, nr 33, s. 701-727.
Błażewski Maciej: Niepomijalność administracji samorządowej w zapewnieniu publicznego transportu zbiorowego, "Acta Universitatis Wratislaviensis. Prawo" 331 (2020), s. 39-48.
Błażewski Maciej: Prawne uwarunkowania ograniczenia wykluczenia transportowego, [w:] Spółdzielnie socjalne oraz organizacje pozarządowe wsparciem dla zagrożonych wykluczeniem, red. J. Blicharz, T. Kocowski, M. Paplicki, Wrocław: Wydawnictwo Uniwersytetu Wrocław¬skiego 2019, s. 11-20.
Dulak Maciej, Jakubowski Bartosz: Publiczny transport zbiorowy w Polsce. Studium upadku, www.klubjagiellonski.pl [dostęp: 25.01.2022].
Giddens Anthony: Socjologia, Warszawa: Państwowe Wydawnictwo Naukowe PWN 2007.
Hauser Roman, Szustkiewicz Marta: Przepisy ograniczające konkurencję w aktach prawa miejscowego, "Acta Universitatis Wratislaviensis. Przegląd Prawa i Administracji" 114 (2018), s. 291-302.
Hauser Roman, Niewiadomski Zygmunt, Wróbel Andrzej (Red.): System prawa administracyj¬nego, t. 5: Prawne formy działania administracji, Warszawa: C.H. BECK, Instytut Nauk Prawnych PAN 2013.
Hoff Waldemar: Prawny model regulacji sektorowej, Warszawa: Diffin 2008.
Jakimowicz Wojciech (red.): Przewodnik po prawie administracyjnym, Warszawa: Wolters Kluwer 2016.
Kwiatek Błażej, Wach Andrzej, Wach Karol: Publiczny transport zbiorowy. Komentarz, Warszawa: WoltersKluwer 2021
Maziarz Aleksander: Reguły konkurencji Unii Europejskiej, Warszawa: C.H. BECK 2019.
Rubisz Szymon: Lex Uber. Obowiązki pośrednika i kierowcy w nowych przepisach o transporcie drogowym, preprint, Research Gate 2019, https://www.researchgate.net/publication/336702252_Lex_Uber_Obowiazki_posrednika_i_kierowcy_w_nowych_przepisach_o_transporcie_drogowym.
Stawicki Aleksander, Stawicki Edward: Ustawa o ochronie konkurencji. Komentarz, Warszawa: Wolters Kluwer 2016.
Sylwestrzak Dorota: Klasyczne przewozy taksówkowe kontra Uber, "Gdańskie Studia Prawnicze" 2018, nr 39, s. 135-148.
Szudejko Piotr: Prawo do publicznego transportu zbiorowego, "Metropolitan" 2019, nr 1, s. 8-17.
Ziemski Krystian, Misiejko Adrian (red.): Organizacja publicznego transportu zbiorowego przez jednostki samorządu terytorialnego ze szczególnym uwzględnieniem prawnych aspektów współ¬działania, Poznań: Wydawnictwo Naukowe UAM 2016.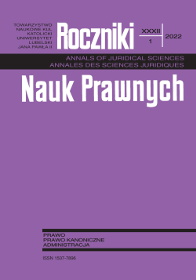 Copyright (c) 2022 Roczniki Nauk Prawnych
This work is licensed under a Creative Commons Attribution-NonCommercial-NoDerivatives 4.0 International License.