Organization of an Effective Public Institution on the Example of the Ombudsman for Children
Keywords:
ombudsman for children, ombudsman, children's rights, protection, effectiveness, efficiency actions
Abstract
Principles and guidelines for efficient organization of operation constitute a set of directives and recommendations proposed by science, the conscious application of which – purposeful application significantly facilitates and accelerates operation and allows for achieving better results. The problem of protecting the rights of individual social groups exists throughout the world. Poland, like most other countries in the world, has ombudsman or quasi-ombudsman bodies in the form of various institutionalized ombudsmen who should be effective. It is important to have efficient, effective functioning in the internal law of the entity exercising appropriate control over whether the rights of individual social groups – human rights are properly exercised, secured and protected. Such entities include the ombudsman, whose counterpart is RPD. The subject of the Ombudsman's control is checking both actions and omissions, i.e. the inaction of other legal entities. The legal form of RPD is also broadly understood cooperation with the administrative apparatus.
References
Arystoteles: Metafizyka, edycja internetowa, http://s.lubimyczytac.pl [dostęp: 12.09.2019].
Korczak Jerzy: O pojęciu sprawności administracji, Rzeszów–Przemyśl: Wydawnictwo Wyższej Szkoły Prawa i Administracji 2011.
Kotarbiński Tadeusz: Traktat o dobrej robocie, Wrocław: Wydawnictwo Uniwersytetu Łódzkiego 1969.
Lambert Tom: Problemy zarządzania, Warszawa: Dom Wydawniczy ABC 1999.
Słownik szwedzko-angielski, http://lexin.nada.ktnse/swe-eng.html,http://www.etaco.com/english-swedish-dicionary/?refid=36591 [dostęp: 12.05.2017].
Słownik języka polskiego, red. M. Szymczak, t. II, Warszawa: Państwowe Wydawnictwo Naukowe 1979.
Sołtysiak Patrycja: Rzecznik Praw Dziecka. Zagadnienia ustrojowoprawne, Warszawa: Wydawnictwo Difin 2019.
Supernat Jerzy: Odesłania do zasad prakseologicznych w prawie administracyjnym, "Acta Universitatis Wratislaviensis. Przegląd Prawa i Administracji", Prawo, 1984, nr 763.
Starościak Jerzy: Problemy współczesnej administracji, Warszawa: Wydawnictwo Wiedza Powszechna 1972.
Woś Tadeusz: Moc wiążąca aktów administracyjnych w czasie, Warszawa: Państwowe Wydawnictwo Naukowe 1978.
Żukowski Lech J.: Społeczna skuteczność prawa administracyjnego, Rzeszów–Przemyśl: Wydawnictwo Wyższej Szkoły Prawa i Administracji 2015.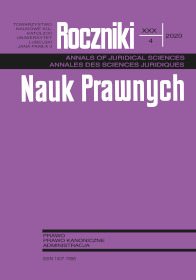 Copyright (c) 2020 Roczniki Nauk Prawnych
This work is licensed under a Creative Commons Attribution-NonCommercial-NoDerivatives 4.0 International License.