Employment Agencies – Legal Regulations of the Interwar Period in Poland
Keywords:
state employment agency, unemployment, help for the unemployed, social policy
Abstract
The state of unemployment in Poland in the interwar period was one of the biggest socio-economic problems that every government had to face. The rebuilding of the Polish state, economic crises, both internal and global, have left their mark on the labor market.
By setting up state employment agencies in 1919, the state decided in imperial order to intervene in this sphere of social policy and positively influence the situation on the labor market. It took on the same responsibility for helping the unemployed. The prevailing conviction was that only well- organized state employment agencies are the most effective and direct means of combating high unemployment, which was a constant phenomenon of the times. At the same time, social and private employment agencies were allowed to supplement the instruments of state employment and help the unemployed. These, however, acted on the basis of restrictive rules and based on strict regulation, as to the number of people who could undertake such activities.
However, it can not be denied that within 5 years a cohesive system of job placement was created, based on state offices, supported by a system of social and gainful job placement. This is important because it was not an easy task, and social expectations probably could not cope with the actual possibility of their operation.
References
Bornstein-Łychowska Melania: Międzynarodowa Organizacja Pracy. Praca i organizacja, Warszawa: Ministerstwo Pracy i Opieki Społecznej 1928.
Fiktus Paweł: Ochrona prawna emigrantów w latach 1918-1927 w II RP, Wrocławskie Studia Erazmiańskie. Zeszyty Studenckie 1 (2008), s. 109-123.
H.Ł.O.W.S.: Państwowe pośrednictwo pracy w Polsce i jego reformy, Praca i Opieka Społeczna 3 (1933), s. 221.
Jankowski Stefan: Nowa organizacja inspekcji pracy, Praca i Opieka Społeczna 4 (1927), s. 24-33. Kicinger Anna: Polityka emigracyjna II Rzeczpospolitej, Central European Forum for Migration Research 4 (2005), s. 1-81.
Kozłowski Tomasz: Inspekcja pracy w Polsce w latach 1919-1939. Organizacja i działalność, Warszawa: Państwowa Inspekcja Pracy 2019.
Kwiecień Sebastian: Polskie prawo gospodarcze okresu międzywojennego, Lublin: Wydawnictwo KUL 2016.
Międzynarodowa Organizacja Pracy, a prawa kobiet, Warszawa [b.w.] 1930.
Mlonek Krystyna: Bezrobocie w Polsce w XX wieku w świetle badań, Warszawa: Krajowy Urząd Pracy 1999.
Okulicz Bronisław: Roboty publiczne w świetle działalności Ministerstwa Opieki Społecznej, Praca i Opieka Społeczna 3 (1933), s. 216-217.
Pośrednictwo pracy w Polsce, Warszawa: Ministerstwo Pracy i Opieki Społecznej 1921, [w:] http://bc.radom.pl/dlibra/doccontent?id=25188 [dostęp: 12.11.2019].
Przeniosło Marek: Problemy społeczne Galicji Zachodniej w początkach II Rzeczypospolitej (wybrane zagadnienia), Studia z Historii Społeczno-Gospodarczej XIX i XX wieku 12 (2013), s. 87-102.
Słabińska Elżbieta: Ewolucja działań publicznych służb zatrudnienia w latach 1918-1939 i 1944-1949. Zarys problematyki, Optimum Economic Studies 2 (2019), s. 95-109.
Słabińska Elżbieta: Łagodzenie skutków bezrobocia w województwie kieleckim w latach 1918-1939, Kielce: Wydawnictwo Uniwersytetu Humanistyczno-Przyrodniczego Jana Kochanowskiego 2008.
Stańczyk Elżbieta: Środowisko pracy w II Rzeczypospolitej, Acta Universitatis Wratislaviensis. Przegląd Prawa i Administracji 77 (2008), s. 293-311.
Sterling Helena: Międzynarodowa Organizacja Pracy i jej działalność, Warszawa: Księgarnia Robotnicza 1928.
Szawleski Mieczysław: Kwestja emigracji w Polsce, Warszawa: Polskie Towarzystwo Emigracyjne 1927.
Zasztowt-Sukiennicka Halina: Międzynarodowa Organizacja Pracy, Warszawa–Wilno: L. Chomiński 1929.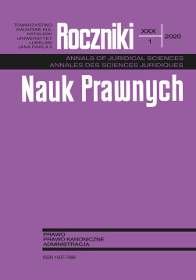 Copyright (c) 2020 Roczniki Nauk Prawnych
This work is licensed under a Creative Commons Attribution-NonCommercial-NoDerivatives 4.0 International License.