Gaven Kerr, O.P., On Creation with Its Philosophical Corollaries
Keywords:
Aquinas' metaphysics of creation, esse, essentia, esse tantum
Abstract
Author endorses the study by Gaven Kerr, O.P., for the way it shows the centrality of Aquinas' metaphysics of creation: showcasing the 'real distinction' between esse and essentia, followed by Aquinas' unique treatment of each, as well as a deep consideration of esse tantum. At the end he states the 'proof' which Gaven Kerr has articulated so deftly reflects the manner in which the Creator 'appears' in creation, thereby 'showing' what cannot be 'said' (Wittgenstein).
References
Grant, Sara. Toward an Alternative Theology: Confessions of a Non-Dualist Christian. Bangalore: Asian Trading Corporation, 1991.
Kerr, Gaven, O.P. Aquinas's Way to God: The Proof in De Ente et Essentia. Oxford University Press, 2015.
Sokolowski, Robert. God of Faith and Reason. Notre Dame, IN: University of Notre Dame Press, 1983; Washington, DC.: Catholic University of America Press, 1995.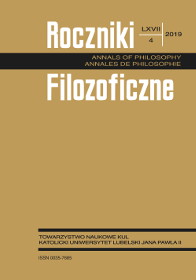 Copyright (c) 2019 Roczniki Filozoficzne
This work is licensed under a Creative Commons Attribution-NonCommercial-NoDerivatives 4.0 International License.