Johann Crell on Religious Tolerance and Salvation
Keywords:
Johann Crell, Socinianism, religious tolerance, practicalism, doctrinal minimalism, religious rationalism
Abstract
The essay discusses the defense of religious tolerance presented in Johann Crell's treatise On Freedom of Conscience, pointing to the tension between Christian exclusivism on the one hand and religious practicalism and rationalism on the other inherent in Crell's views. This tension can be resolved by adopting theistic minimalism or extreme practicalism.
References
Curley, Edward. 2004. "Sebastian Castellio's Erasmian Liberalism." Philosophical Topics 3:47–73.
Crell, Johann. 1637. Vindiciae pro religionis libertate. Amsterdam: Elevtheropoli. Accessed Nov. 1, 2022. https://polona.pl/item/ivni-i-brvti-poloni-vindiciae-pro-religionis-libertate,Njg4OTg5MjQ/14/#info:metadata.
Crell, Johann. 1646. Vindication of Liberty of Religion. Translated by N.Y. London: s.n. Early English Books Online Text Creation Partnership, 2011. Accessed Nov. 1, 2022. https:// quod.lib.umich.edu/e/eebo2/A80794.0001.001?rgn=main;view=fulltext.
Frank, Sebastian. 1972. List do Jana Campanusa. Translated by M. Zipfel, in Myśl filozoficzno-religijna reformacji XVI wieku, edited by Lech Szczucki, 215–33. Warsaw: PWN.
Hazard, Paul. 2013. The Crisis of the European Mind: 1680-1715. Translated by J. Lewis May. New York: NYRB.
Ogonowski, Zbigniew. 1957. Introduction to Crell 1637, vii–xl.
Ogonowski, Zbigniew. 1958. Z zagadnień tolerancji w Polsce XVII wieku. Warsaw: PWN.
Ogonowski, Zbigniew. 1960. Socynianizm polski. Warsaw: Wiedza Powszechna.
Ogonowski, Zbigniew. 1966. Socynianizm a Oświecenie. Studia nad myślą filozoficzno-religijną arian w Polsce XVII wieku. Warsaw: PWN.
Ogonowski, Zbigniew. 2021. Socinianism: History, Views, Legacy. Translated by Marcin Turski. Rome: Edizioni de Storia e Letteratura.
Soner, Ernst. 1957. "Okazanie teologiczne i filozoficzne, że męki wieczne nie dowodzą sprawiedliwości, lecz raczej niesprawiedliwości boskiej". Translated by Tadeusz Bieńkowski, Archiwum Historii Filozofii i Myśli Społecznej 2:184–99.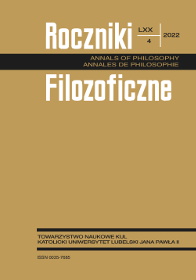 Copyright (c) 2022 Roczniki Filozoficzne
This work is licensed under a Creative Commons Attribution-NonCommercial-NoDerivatives 4.0 International License.