Beginnings of Modern Christian Aristotelianism
Keywords:
Aristotle, Averroism, Christian Aristotelianism
Abstract
This is an English translation of Swieżawski's original article titled "Początki nowożytnego arystotelizmu chrześcijańskiego," published in Roczniki Filozoficzne 19 (1971): 41–56.
The paper focuses on four main topics: (a) increased theological standing of Aristotle in the 15th century; (b) critical concerns over the compatibility of Aristotle's philosophy with Christianity, as well as over its interpretation by Averroes; (c) search for the "historical Aristotle" and an objective assessment of the resultant interpretations of Aristotle's philosophy; (d) identification of Thomism with Christian Aristotelianism.
References
Bianco, Franz J. von. Die alte Universität Köln und die spätern Gelehrten-Schulen dieser Stadt… I. Vol. 1, Die Alte Universität Köln. Cologne, 1856.
Brentano, Franz. Aristoteles' Lehre vom Ursprung des menschlichen Geistes. Leipzig, 1611.
Carreras y Artau, Tomás, and Joaquín Carreras y Artau. Historia de la filosofia Española. Filosofia cristiana de los siglos XIII al XV. 2:550, 569. Madrid: Real academia de ciencias exactas, físicas y naturales, 1943.
Duhem, Pierre. Le système du monde. Histoire des doctrines cosmologiques de Platon à Copernic. Vol. 10, La cosmologie du XVe siècle. Écoles et universités du XVe siècle. Paris: Hermann, 1959.
Dulles, Avery. Princeps Concordiae. Pico della Mirandola and the Scholastic Tradition. Cambridge, MA: Harvard University Press, 1941.
DÜring, Ingemar. "Von Aristoteles bis Leibniz. Einige Hauptlinien in der Geschichte des Aristotelismus." Antike und Abendland 4 (1954): 118–54.
Feckes, Karl. "Das Opusculum des hl. Thomas von Aquin 'De ente et essentia' im Lichte seiner Kommentare." In Aus der Geisteswelt des Mittelalters. Beiträge zur Geschichte der Philosophie und Theologie des Mittelalters, supplementary vol. 3, 667–81. Münster, 1935.
Feret, Pierre. La faculté de théologie de Paris et ses docteurs les plus célèbres. Moyen Age. Vol. 4. Paris, 1897.
Friemel, Salesius. "Die theologische Prinzipienlehre des Augustinus Favorini von Rom OESA († 1443)." Cassiciacum 12/2, vol. 4. Würzburg: Augustinus-Verl, 1950.
Garin, Eugenio. "La 'Teologia' Ficiniana." In Umanesimo e Machiavellismo. Archivio di filosofia, 21–33. Padova, 1949.
Garin, Eugenio. "Le traduzioni umanistiche di Aristotele nel secolo XV." Atti dell'Accademia Fiorentina di Scienze Morali "La Colombaria" 16 (1950): 57–92.
Garin, Eugenio. L'Umanesimo Italiano. Filosofia e vita civile nel Rinascimento. Bari: Editori Laterza, 1964.
Garin, Eugenio. Storia dei generi letterari italiani. Vol. 2, La filosofia, pt. 1, Dal medio evo all'umanesimo. Milan: Francesco Vallardi, 1947.
Gilson, Étienne. "Cajétan et l'existence." Tijdschrift voor philosophie 15 (1953): 267–96.
Gilson, Étienne. "Cajétan et l'humanisme théologique." Archives d'Histoire Doctrinale Et Littéraire du Moyen Âge 22 (1955): 113–36.
Grabmann, Martin. "Der Belgische Thomist Johannes Tinctoris († 1469) und die Entstehung des Kommentars zur 'Summa theologiae' des Hl. Thomas v. Aquin." In Studia Mediaevalia: In honorem […] Raymundi Josephi Martin, 411–32. Bruges: Societatem Editricem "De Tempel," 1948.
Green, V. H. H. Bishop Reginald Pecock. A Study in Ecclesiastical History and Thought. Cambridge: Cambridge University Press, 1945.
Gumposch, Victor P. Die philosophische und theologische Literatur der Deutschen von 1400 bis auf unsere Tage. Vol. 1, Die philosophische Literatur. Regensburg, 1851.
Haubst, Rudolf. "Johannes Wenck aus Herrenberg als Albertist." Recherches de théologie ancienne et médiévale 18 (1951): 308–23.
Heidingsfelder, Georg. "Zur Aristotelesdeutung in der Renaissance." Philosophisches Jahrbuch der Görresgesellschaft 53 (1940): 387–96.
Heidingsfelder, Georg. Zum Unsterblichkeitsstreit in der Renaissance (Petrus Pomponatius †1525), in Aus der Geisteswelt des Mittelalters. Beiträge zur Geschichte der Philosophie und der Theologie des Mittelalters, supplementary vol. 3. Munich: Aschendorff, 1935.
Heiss, Robert. "Der Aristotelismus in der Artisten-Fakultät der alten Universität Köln." In Festschrift zur Erinerung an die Gründung der alten Universität Köln im Jahre 1388, 288–315. Cologne, 1938.
Kues, Nicolaus von. Philosophisch-theologische Schriften. Vol. 1. Edited by Leo Gabriel. Vienna: Herder, 1964.
Laurent, M. H. "Introductio: Le Commentaire de Cajetan sur le 'De Anima'." In Thomas de Vio Cardinalis Caietanus (1469–1534). Scripta philosophica: Commentaria In "De Anima" Aristotelis, vol. 1, edited by P. J. Coquelle OP, xxff. Rome: Angelicum, 1938.
Markowski, Mieczysław. "Definicje substancji w komentarzu do 'Metafizyki' Dominika z Flandrii." Studia Mediewistyczne 6, no. 45 (1964): note 188.
Nardi, Bruno. "Averroismo." In Enciclopedia Cattolica, vol. 2, col. 530. Vatican City, 1949.
Nardi, Bruno. "Letteratura e cultura veneziana del Quattrocento." In La civiltà veneziana del Quattrocento, edited by Guido Piovene, 99–145. Venice: Sansoni, 1957.
Nardi, Bruno. Saggi sull'aristotelismo padovano dal secolo XIV al XVI. Florence: Università di Padova, 1958.
Nardi, Bruno. Studi su Pietro Pomponazzi. Florence: F. le Monier, 1965.
Offredus, Apollinaris. Quaestiones in libros Aristotelis "De anima". Venice, 1496.
Prantl, Carl. Geschichte der Logik im Abendlande. Vol. 4. Leipzig, 1870.
Trombetta, Antonio. Quaestio de animarum pluralitate contra Averroym et sequaces in studio Patavino determinata. Venice, 1498.
Vast, Henri. Le cardinal Bessarion, 1403-1472: Étude sur la chrétienté et la renaissance vers le milieu du XVe siècle. Paris, 1878.
Vicomercato, Francisco a. In III librum "De anima". Paris, 1543.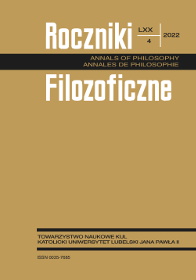 Copyright (c) 2022 Roczniki Filozoficzne
This work is licensed under a Creative Commons Attribution-NonCommercial-NoDerivatives 4.0 International License.